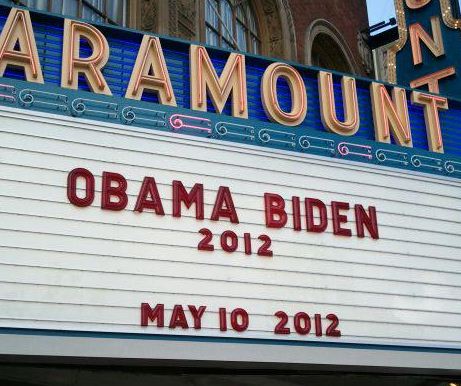 Rockin' at The Paramount with Dave Matthews the day after the Prez declared he's all for us gettin' married.
If you aren't THERE in person, then be there in spirit and give some dollaz to the fight for Marriage Equality in Washington State AND say thanks to the Prez for supporting the fight for equality.
Head to the Washington United for Marriage website to sign a thank you card, and while you're at  it, you can drop some money into their wallet so we achieve marriage equality in November.
AND, don't forget about the big, monster Gala for Marriage Equality happening June 9th at the Convention Center…tickets and info for that event are over here.
And, try not to bitch too much about the awful traffic this afternoon…the Prez can't help it.
Things are expected to be just as bad, if not worse, in Los Angeles tonight…President Obama is heading to the City of Angels for a huge fundraiser hosted by actor George Clooney at Clooney's home immediately following his Seattle visit. The Clooney event is being called "Starmageddon" due to the big names attending, and the expected traffic headaches during rush hour, and it's already earned nearly $15 million bucks for the Obama 2012 campaign.
We're a little bummed that all Seattle could come up with, was Dave Matthews…we need more celebrities in town. Seattle cannot survive on the coat tails of Matthews, Chihuly and Tom Skerritt forever…
(Visited 1 times, 1 visits today)