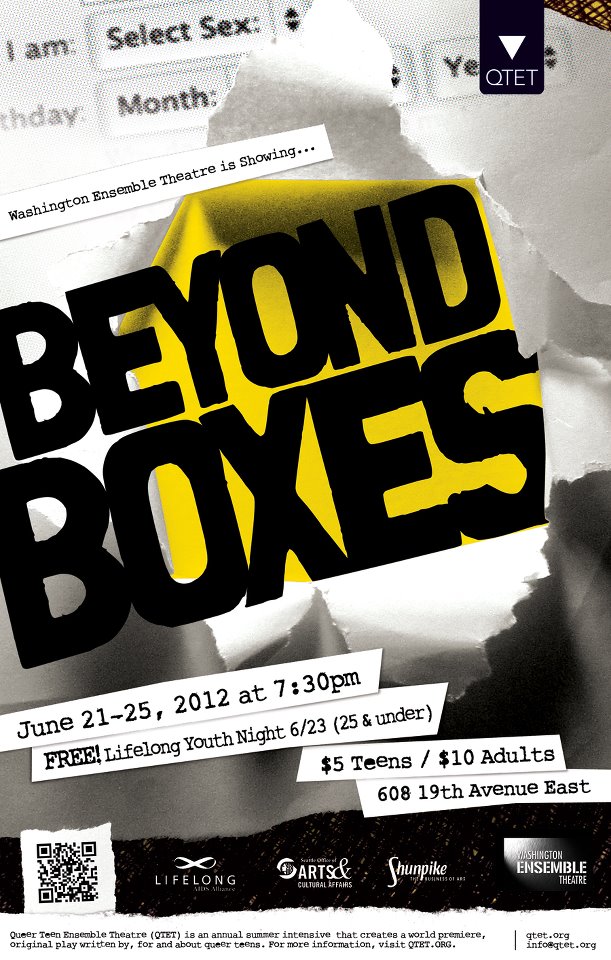 Or, to be clearer and not to sound like perverts, we adore the TALENT of the queer kids who take part in Washington Ensemble Theatre's yearly program "Queer Teen Ensemble Theatre" aka, "QTET". Every May/June under the direction of program founder Jessica Hatlo, a group of LGBTQ and questioning teens gather together to workshop and create an original piece of theater which is then performed during Pride Week. We did a video piece on last year's kids and their production and Les and I were both blown away by these articulate, smart, funny kids (and the amazing Ms Hatlo) and their passionate dedication to putting on a great show. We really, really recommend checking out their 2012 show but don't wait too long to get tickets because the performances do tend to sell out. (And, bring a hanky because you might get a little weepy; things can get a bit emotional when queer kids talk about their struggles and triumphs. But, there's usually a lot of laughter as well.)
This year's show is titled "Beyond Boxes" and opens Thursday June 21, 2012 at 7:30pm and runs through Monday, June 25. Here's the skinny:
BEYOND BOXES

It's the last week of school and big decisions loom large. Who am I taking to prom? What do I perform in the talent show? Where do I go to college? When will my family accept me? Why does the world shove me into boxes?!?

Find the answers to these life questions and more in this world premiere Queer Teen Production: BEYOND BOXES.

Written and performed by the 2012 QTET Ensemble: AJ Cali, Biz Freebairn, Cara Clagg, Elijah Finbook Greiner, Emerson Lynch, Emmy Rodriquez-Brown, Jacob Braxton, Kate Holmes, Maggie Davidson,  Marissa Erickson, Rogue Kalehua, Shireen Nori

Directed by: HATLO
Designs by: Chris Tschirgi, Chris Frickland, Clare Strasser, Skyler Burger

PRIDE WEEKEND ONLY
June 21-June 25,2012 at 7:30pm
*Saturday June 23* Lifelong Sponsored *Free Youth Night* youth under 25 get in FREE
SGS HIGHLY recommends checking out this show and supporting this great project.
Tags: QTET, Washington Ensemble Theater