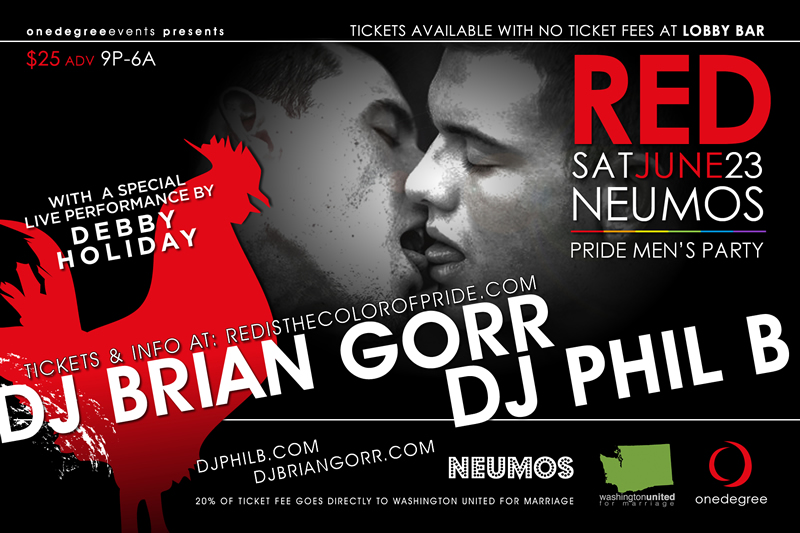 Red Rover, Red Rover! Send dance crazed disco hounds right over!
Yep. The Official Pride RED Parties are baaaaaack for Seattle Pride 2012 courtesy of One Degree Events and Seattle PrideFest. The RED "Cock" Party for the gentlemen is happening at Neumos on Saturday, June 23rd from 9pm to 6am (good grief!) and the RED "Pussy" Party for the ladies is happening over at The Baltic Room from 10pm to 4am AND tickets are available for BOTH events including special VIP party passes. AND/AND, 20% of the ticket prices go directly to Washington United for Marriage and the battle to win Marriage Equality in Washington State. It's a Win/Win situation!
Both events have a great line-up.The men folks get DJ Brian Gorr and DJ Phil with a special performance by PrideFest headliner Debby Holiday while the women get Hostess Honeysuckle Hype, DJ's Roy G. Biv, Mr. Charming and Tina T (Las Vegas) and performances by Miss Kitty Baby and Boom Boom L'Roux. And, please remember that ANYONE can go to either event; no one is doing a genital check at the doors…
Advanced Tickets are $25 for the Men's Party and $20 for the Women's Party and for the VIP Passes, $45/Men and $40/Women. Fee-free pre-sale tickets for the men's party available at Lobby Bar, and for the women's party at The Baltic Room. With fees, go to the PrideFest website.
(Visited 1 times, 1 visits today)