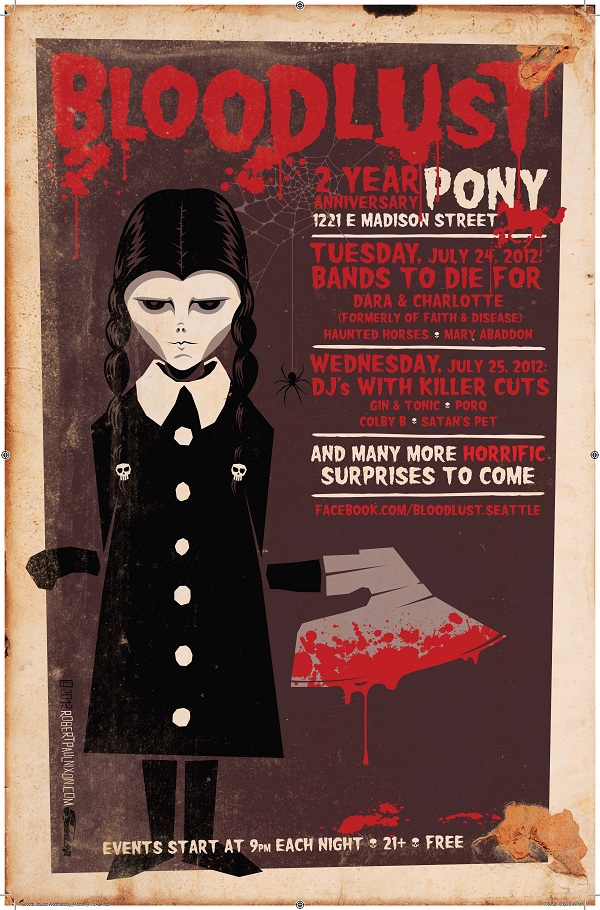 Someone (besides Seattle Gay Scene) is having a Birfday this month….B/L/O/O/D/L/U/S/T, (yes, that's how they spell it…sigh) the naughty little monthly queer Goth dance party at Pony is turning two this month and to celebrate, they're gonna mope in their parent's rec room and smoke clove cigarettes and read French poetry to each other.
I keed, I keed.
Instead, they're throwing a two day mega party at Pony with LIVE bands on Tuesday, July 24th and the usual DJ'd night on Wednesday, July 25th. Here's some skinny:
Bloodlust, the gayest goth night on Capitol Hill is celebrating 2 years of Last Wednesdays at Pony by having two nights of music for free!

We've unearthed some great bands for Tuesday, July 24th:

Dara & Charlotte (formerly of Faith & Disease)

Colby B
Porq
Satan's Pet

and the usual resident DJs, Gin & Tonic

MORE HORRIFIC SURPRISES TO BE ANNOUNCED!

Pony is located at 1221 E Madison St

event starts at 9pm each night
FREE

21+ 
We aren't that up on the Goth scene (we only listen to Sondheim, Nirvana and old Nancy Sinatra records…) but apparently the appearance of  Dara & Charlotte is a big deal…their former band, Faith & Disease, was a fixture in the Seattle indie music scene in the 1990's.
We're also deeply in love with the poster and might have to marry it. Or drink some absinthe and mope about our inability to marry same-sex partners or inanimate photographic images.