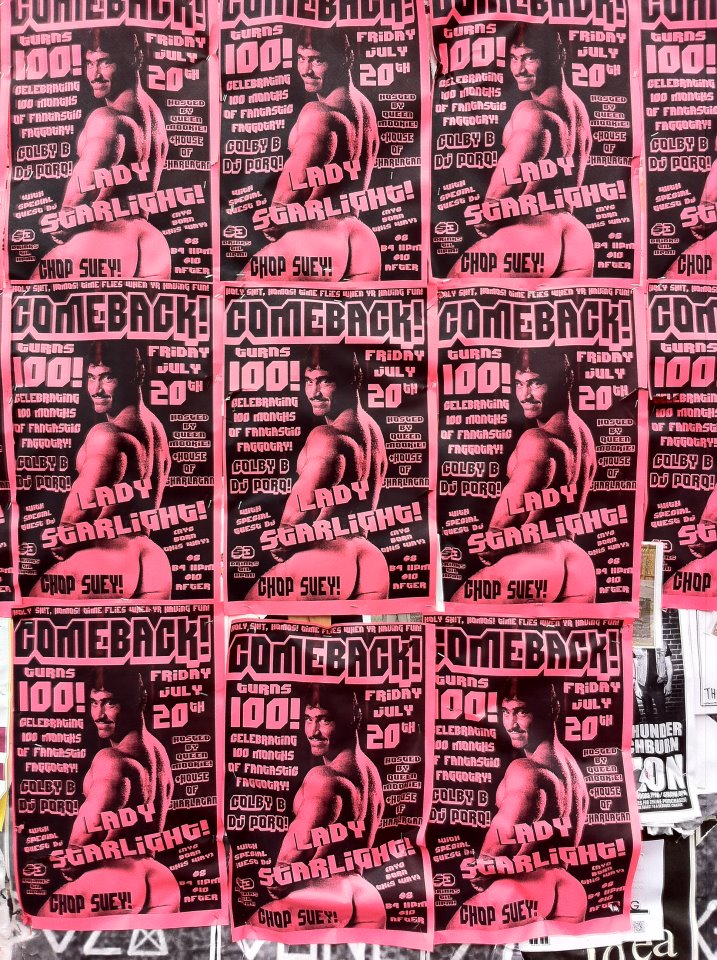 Comeback, which is undisputedly a Seattle nightlife INSTITUTION!, celebrates 100 parties this Friday night (July 20th).  It's kind of crazy how quickly 8 years goes by.  Comeback has long been a monthly staple in the planning of people's nightlife escapades.  It's featured incredible talent from all over the globe, and it's set the stage for some seriously outrageous happenings.  Those of you who never miss a single one know exactly what I am talking about.  I hit up my friend Colby b (resident DJ and Producer for Comeback) with a little Q & A in advance of Friday's 100th.  Here's what she had to say…
LK:  What's a highlight, looking back at 100 Comeback's?
CB:   It's been twice nominated America's Best Party by the Paper Magazine Nightlife Awards, and there's not a place I've been in the world were someone hasn't come to me with fond memories of this awesome monthly event.
LK:  Way back in the good old' days when Comeback started, what were you guys going for?  What philosophy were you following, creatively and fundamentally?
CB:  Comeback was started to fill a void in the queer community and create a "family" event at Chop Suey. At the time (8 years ago) Marcus Wilson (DJ Porq) was the bar Manager, Eddie Long was a bartender, Frank Nieto was helping run the club, and I was running the door/assistant manager. Eric Grandy and Shannon Carroll also helped get it off the ground back then. Catering to the dark & dirty alternative queer set. Too young and out of the box for Seattle institutions like Eagle and The Cuff, but also giving them a hint of the history with lots of vintage porn and movies.
LK:  What's different now, 100 parties later?
CB:  The crowd has changed, as has the music but we feel we are STILL filling a void and will be around as long as we are supported back. Why the hell else would I fly across the country every month?
LK:  I'm sure there are tons, but if I asked what your favorite Comeback memory was, what would you say?
CB:  I can't put my finger on a favorite moment, sounds corny but there's always something every month that puts me "ovah", from a performer, to that perfect track, to an amazing crowd.
LK:  …and because I asked about your favorite memory, I must ask if you have a least favorite one….
CB:  Being my own agent and having to schedule so much travel does wear me down a bit but I suppose it's par for the job, plus I can always take a nap on the plane.
LK:  You've had so many great guest DJ's and performers.  Who were the highlights for you?
CB:  We've brought legends like Miss Guy, Larry Tee, Candis Cayne, Juanita More (along with now London based photo genius Brandon Morris), Justin Bond and new beacons like Ssion, Sammy Jo (Scissor Sisters), Sparber, Blowpony, Tubway and the house of Aviance. All while trying to include our neighbors from the west coast, the fierce locals and  amazing people we find putting it out there.
LK:  Any surprises in store for the 100th?
CB:  Joining us for the 100th comeback is another strong lady, taking a quick stop in between a bunch of travel herself – Lady Starlight.  She has been hailed as New York Cities BEST Female Hard Rock DJ in addition to being a pro makeup artist for MAC, a performance artist and being the main tour support for a little artist by the name of Lady Gaga. With a few days off between countries on the Born This Way Tour, she chose to come turn Seattle out and bring some electricity to our "Capitol hill cock party". She will be joining the House of Charlatan, Host Queen Mookie (of Glitoris fame), resident/co promoter DJ Porq and myself.  This night will also serve as my Seattle birthday blow out!
Well, Happy Birthday to my fellow Cancer (she likes spankings), and congrats to all the peeps who have helped keep Comeback going for 8 years now (they like spankings too)!  Let's all go and dance it out at Comeback!  
Tags: Chop Suey, Comeback, Dj Colby B