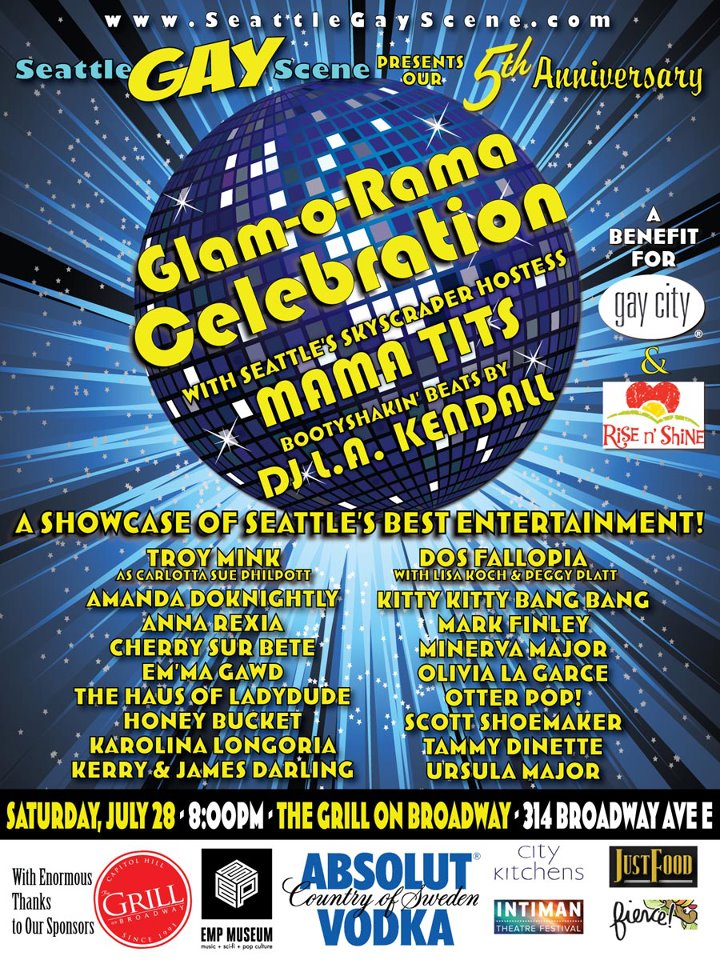 We're busily getting ready for tonight's huge Seattle Gay Scene 5th Anniversary Party and Show at The Grill on Broadway! The party starts at 8pm with our amazing show starting at 9:30pm and hosted by Seattle's Skyscraper Hostess, Mama Tits and the amazing DJ skills of L.A. Kendall!
There will be amazing food and drink specials including one of a kind cocktails perfected by our sponsor, the lovely gay supportive folks at ABSOLUT!!! Not to mention its a fundraiser for two of our favorite non-profits in Seattle, Gay City Health Project and Rise n' Shine and we have some AMAZING gift baskets to raffle off including donated goods from Microsoft (Hint: HALO products in the offfering…), City Kitchens (Strangeways wants to win this one!!!!), the 5th Avenue Theater (Tickets to "Rent"), Intiman Festival (Tickets to the Dan Savage drag comedy, "Miracle!), EMP/SCIFI (an amazing basket of goodies), The Grill on Broadway (a delicious gift basket) and many more. AND, there are gift bags with goodies for EVERYONE!
But, the big attraction is our amazing line-up of talent headed by Mama Tits:
* Kerry & James Darling!
* Otter Pop!
* Amanda DoKnightly!
* The Haus of LadyDude – Olivia la Garce, Cherry Sur Bete, Ursula Major and Minerva Major!
* Kitty Kitty Bang Bang!
* Karolina Longoria
* Honey Bucket!
* Scott Shoemaker!
* Anna Rexia, Tammy Dinette and Em'ma Gawd!
* Mark Finley!
* Troy Mink as Carlotta Sue Phillpot!
* Dos Fallopia w/Lisa Koch & Peggy Platt!
And, who KNOWS who'll stop by to play with us?!?!?!
Oh, and it's a free event…NO COVER!!!
We gotta go finish up our outfits…see you tonight!
Without you, there would be no Seattle Gay Scene.
Love and Thanks to All of our Faithful Readers!
MWAH!!!!
(Visited 1 times, 1 visits today)