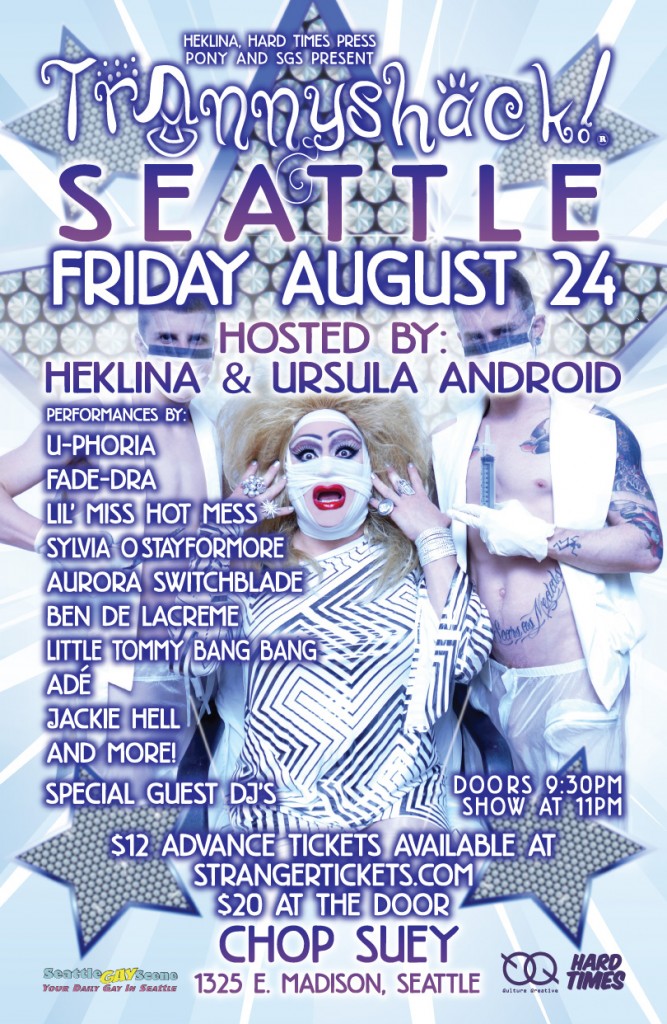 We've been sitting on this news for MONTHS! (Do you know how hard it is for us to keep our mouths shut? DO YOU?) The incomparable San Francisco mega diva, Heklina is coming back to Seattle and bringing her Trannyshack crew with her for a big, hot, zexy show at Chop Suey on Friday, August 24! It's been almost TWO years since the last Seattle Trannyshack and we're guessing this mother is going to sell out quickly…AND, you definitely should buy advance tickets since there's a huge savings…Tix are $12 (plus fees) if you snap them up over at StrangerTickets and $20 if you wait and buy them at the door. But, we're kinda doubting that they'll be that many left…take a look at that line-up:
U-Phoria
Fade-Dra
Lil' Miss Hot Mess
Sylvia O'Stayformore
Aurora Switchblade
Ben De LaCreme
Little Tommy Bang Bang
Ade O'Connor
Jackie Hell
And more to be announced!
We adore Fade-Dra! She's a terrifying performer who makes Sharon Needles look like Little Bo Peep! And, of course you can expect a number or three from our hostess Heklina. AND, a little birdie tells me that Ursula Android will be coming out of her bushy bearded hibernation and make an appearance as well. De-Lightful!
We'll have a lot more to say about this in the weeks ahead…we're Sponsors of the event so we'll be all over it like a slutty top duck on a slutty bottom duck.
Check out the Facebook invite HERE!
The streets of Gay Seattle will be EMPTY that night…EVERYONE will be at the Chop!
Tags: Chop Suey, Heklina, Trannyshack Seattle, Ursula Android