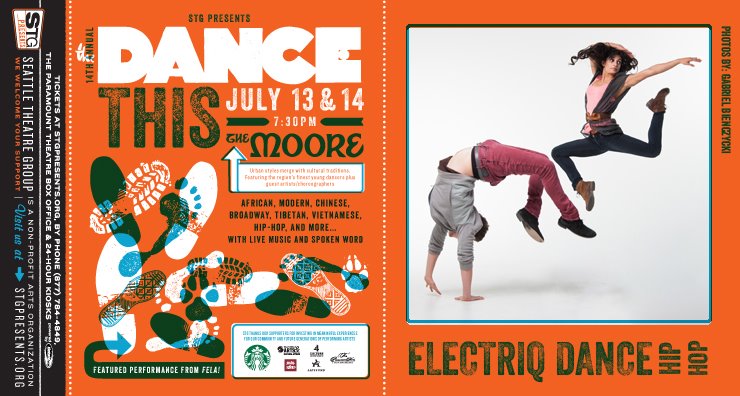 It's that time of the year…for Seattle Theatre Group's annual student dance event, "Dance This" performing today and tomorrow at 1pm (Thurs/Fri at 1pm for a Youth matinee) and Friday and Saturday nights at 7:30pm at The Moore. "Dance this" is an educational arts program the brings together talented student dancers with professionals for a chance to grow and perfect their dance performance skills.
DANCE This Performances
July 12-13, 2012, 1 pm – Youth Group Matinee (tickets)
July 13-14, 2012, 7:30 pm – Public Performance (tickets & info)
The Moore Theatre

DANCE This brings together teen performers from diverse communities for collaboration and to share their culture through the art of dance. The performance features young local dancers in collaboration with professional artists performing cross cultural dances—both traditionally rooted and contemporary in form.

AFRICAN DANCE & MUSIC  Gansango Music & Dance
CHINESE  Melody Institute
CONTEMPORARY DANCE & SPOKEN WORD  choreographed by Sonia Dawkins
HIP HOP  Electriq Dance
MODERN  choreographed by Mark Haim
TIBETAN  Tibetan Language & Culture Class
VIETNAMESE  Âu Lạc Vovinam Lion Dance Team
STG's YOUNG CHOREOGRAPHERS LAB  choreographed by Jasmmine Ramgotra
FEATURED PERFORMANCE  from the Broadway hit, FELA!, choreographed by Bill T. Jones, staged and special solo by FELA! dancer, Danny Soto
FINALE choreographed by Daniel Cruz
It's a terrific program and HUGELY entertaining and highly recommended entertainment for everyone who loves dance.
Check it out!
(Visited 1 times, 1 visits today)