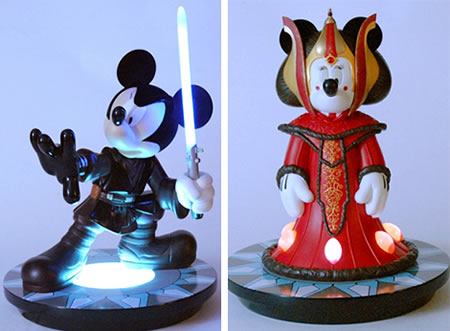 The news that The Walt Disney Company is buying Lucasfilm, the production company owned by George Lucas and the home of the Star Wars film franchise, is sending ripples through Fanboy Land. The deal, which is coming in at a cool $4.05 BILLION dollars includes the rights to the Star Wars films, and Disney and Lucasfilm have already announced that "Star Wars Episode 7" is in the works for 2015. No word on whether the film would be an immediate successor to Episode 6, "The Return of the Jedi" and if it would feature the iconic characters from the original three films, Luke Skywalker, Princess Leia and Han Solo or be an entirely new story with newly created characters.
Mr. Lucas on the deal:
"For the past 35 years, one of my greatest pleasures has been to see Star Wars passed from one generation to the next," said Lucas. "It's now time for me to pass Star Wars on to a new generation of filmmakers. I've always believed that Star Wars could live beyond me, and I thought it was important to set up the transition during my lifetime. I'm confident that with Lucasfilm under the leadership of Kathleen Kennedy, and having a new home within the Disney organization, Star Wars will certainly live on and flourish for many generations to come. Disney's reach and experience give Lucasfilm the opportunity to blaze new trails in film, television, interactive media, theme parks, live entertainment, and consumer products."
This news has Star Wars fans divided, with some rejoicing that new films are in the works and out of hands of the much reviled Lucas, who's not hugely popular with many enthusiasts due to changes he's made to the original three films, and a general sense of disappointment with the three prequels. Others are worried that Disney will tamper with the legacy and potentially dilute it by making it too family friendly.
Thoughts? Will Mickey Mouse infiltrate the Sith? Is a Jar Jar/Goofy buddy film in the works? Will Princess Leia and Princess Amidala be cavorting with all the other Disney royalty in the Main Street Parade? Will Jabba the Hut now be comedy relief voiced by Gilbert Gottfried?
We'll see…
(Visited 1 times, 1 visits today)