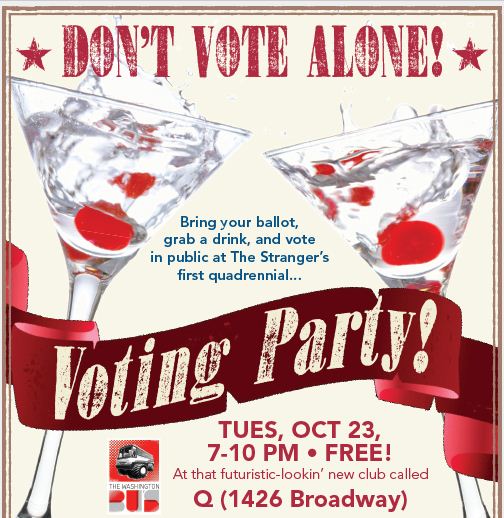 The new Q Night Club is putting its politics where its mouth is with two big events, one tonight (Wednesday, October 10) and one in a couple weeks…
Tonight's hoo-hah is a fundraiser for Marriage Equality called, uh, "A Night at Q for Marriage Equality"…here's the skinny:
Wednesday, October 10, 2012
7:30pm – 10pm 21+
$74 donation

Featuring Q resident DJs Riz Rollins (also of KEXP), Nark (Q creative director) and Almond Brown…with guest Terry Hecker (aka DJ TROUBLE), Emmy Award recipient for It Gets Better Project.

Bar hosted by Q and food provided by Cupcake Royale, Marination, Madison Park Conservatory, Poquitos, and Skillet.

For tickets, make your donation here: http://www.approve74.org/Qnightclub
(**you will be able to donate at the door, but it's faster online!)
THEN, you should stick around for their usual Wednesday night event, WerQ with DJ Gene Lee and The Can Can Castaways. FUN!
Further down the road, The Stranger is hosting a "Voting Party" on Tuesday, October 23 from 7pm to 10pm.  They want you to bring your mail-in ballot, vote, and meet the candidates…well, the good, liberal ones at least. It's hosted by Dan Savage, it's FREE, and you can meet governor candidate Jay Inslee, Mayor Mike McGinn, Ed Murray, and a host of other politicos. DJ Trouble (aka Terry Miller) is spinning.
Booze, politicians, and voting…What could be more fun?!?!?!?
Tags: election 2012, Q, The Stranger