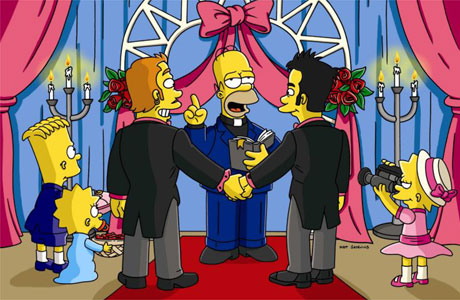 YAY! Washington State now has full marriage equality thanks to the passage of Referendum 74 last month! All our homo coupled and lesbo coupled friends can LEGALLY tie the knot!
But, before all our coupled friends head down to City Hall to pick up a marriage license and start planning that dream wedding complete with matching Prada tuxes, $10k worth of flowers and a 5 tier gluten free cake, there are some LEGAL ramifications to marriage that many (gay and straight) couples should be aware of. Legal marriage and a lovely ceremony are great, but the act of marriage is not only a personal right/rite of passage and/or a religious rite but it's also very much a legal and financial/business transaction as well that involves property rights, taxation and a host of other non-romantic and very practical considerations. Smart couples should be informed.
And, since lesbian and gay couples aren't necessarily schooled in all these ramifications, the lovely folks at Pride Foundation are putting on a public forum that will answer many questions about entering the state of legal wedlock. It's happening this evening at Town Hall and representatives from Q Law, Lambda Legal and other law groups will be on hand for a "Marriage 101" prep…more poo:
Join us for an event to explain marriage equality in Washington.

Now that we've won (WHOO HOO!!) you may have questions around legal issues that persists around marriage due to federal and state failures to recognize same-sex marriages. Panelists will discuss what happens in you get married in Washington and will explain the ways that state and federal laws impact the realization of full marriage equality.

Doors will open at 5:30 PM – please RSVP yourself and any guests to events@pridefoundation.org

Panelists will also answer questions about taxes, insurance, social security benefits, parental rights, and more – as well as discuss the potential of the Supreme Court ruling on the constitutionality of the federal Defense of Marriage Act (DOMA).

Featured Panelists:
David Ward – Legal Voice
Hank Balson – Public Interest Law Group and ACLU cooperating attorney
Shelbi Day – Lambda Legal
Jill Mullins – QLaw Foundation

This forum is put on by Pride Foundation, the Greater Seattle Business Association, the American Civil Liberties Union, QLaw, Legal Voice, and Lambda Legal.

**ASL Interpreter services provided**
Yes, "Get Me To The Chapel" but if you're wise, you'll stop off at Town Hall tonight and learn a few Facts of Life.
Tags: Marriage Equality Explained, Pride Foundation, Town Hall