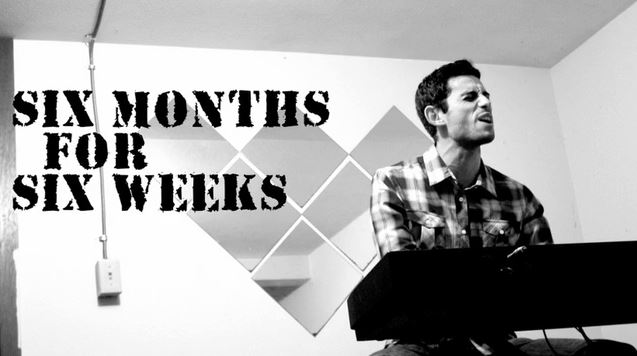 Back in May, we told you about a crowd funding drive via Kickstarter created by musician John Coons and filmmaker Alex Berry to turn Mr. Coons one man stage show into a webseries called "Six Months for Six Weeks". Well, they reached their goal of $3500 (plus a bit extra) so the duo have been filming scenes for the project all over town for the last few weeks.
But, now it's time to film the actual musical performances that are at the heart of the series and Mr. Coons and Mr. Berry are heading to Columbia City Theater, 4916 Rainier Avenue South, TONIGHT, Monday, July 15 to film those scenes from 6:30pm to 7:45pm and they need some warm bodies to fill the seats in the theater and be enthusiastic extras. Here's more info from the Facebook invite:
Alex Berry and I have been hard at work at turning my one-man show into a web-miniseries, and Monday, July 15th is going to be a GIANT chunk of the process- filming all of the musical numbers at the Columbia City Theater!

For the finale of the whole show, I need an AUDIENCE, which is where you guys come in. It will be a pretty short shoot for the crowd (and we will be on a pretty tight schedule), and there's a bar right there, so… grab a friend, come get a preview of the final product, get a drink if you want, and then take part in HISTORY IN THE MAKING.

Show up a little before 6:30, dressed like you would to go see a gig!
If you've always wanted to be an extra, here's your chance! But, we should note that filmmaking can be very much a "start and stop" kind of process, so bring a book or a fully charged phone to keep you occupied…though, this may not be an issue with this project as Mr. Berry shoots quickly and on the fly!
Check it out…it's a fun way to participate in the creation of art.
(Visited 1 times, 1 visits today)