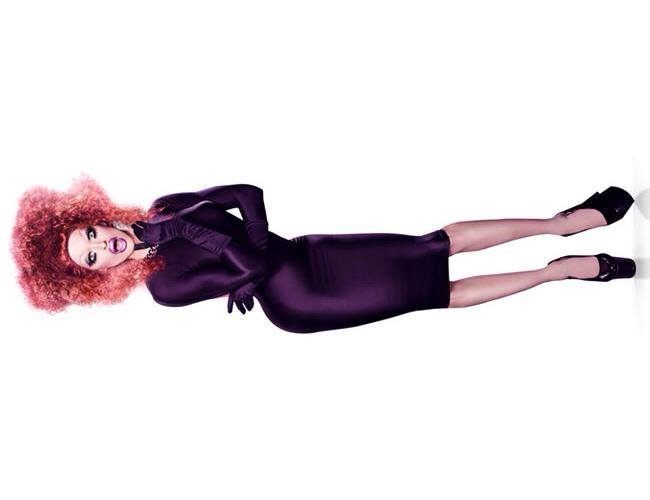 Ah…it's back to being wet/drizzly/pissy/grey! HurRAY!
Don't let it get you down, Mrs. Brown…pack up your troubles and go do stuff tonight (SATURDAY, MARCH 8).
Options Include:
Queen Mookie and Ro hosting gender blending disco madness at GLITORIS at Pony. Fun.
BACON STRIP, Sylvia O'Stayformore's Big Gay Variety Show at Theatre Off Jackson in the International District is offering up THE X AMERICAN BACON VOICE HAS TALENT SHOW as a theme this month which we assume means…live performances? (as opposed to dead ones?) From the invite:
This show is thick with talent! The gurls have been asked to bring the numbers they would have used if they were going to audition for anyone of those non-reality real TV talent shows. We promise , some newbies, crazy live performances, and fun. So come on out and get your fill of the gurls and of bacon served fresh at Bacon Strip.

This month we have in our line up
Honey Bucket
Sylvia O' Stayformore
Aunt Betty Malone
SuperNova-Majesty Michaels
Cherry Sur Bete
Kerry and James Darling
Donna Tella Howe
Deja Nouveau
And more!
Meanwhile, up at The Seattle Eagle it's SCORE: GET SOME. "A night celebrating all things male and raunchy…"
From the invite:

Your favorite raunchy rompfest is back a week early at the SEATTLE EAGLE on SATURDAY, MARCH 8th to kick off festivities for the 33rd anniversary of the Seattle Eagle. Let it all hang out with your resident cage jockeys. They'll take good care of you. Watch them BUMP and GRIND, PET 'em, STROKE 'em, GRAB 'em, tell 'em what DIRTY BOYS they're being. Trust me. They like it when you do that.

As always, resident DJ PAVONE will be mixing up the sleazy house beats along with special guest ROBIN SIMMONS (Odyssey SF)!
Go Go Kirk and his Cage Meat will also entertain…Kirk also has a request that all of Seattle's many, many power bottoms stop NAGGING and WHINING at him about "dates". He's only one man and he's very busy and EXHAUSTED. He can't personally satisfy EACH of you! Come to SCORE so he can satisfy you in a group setting! (Bring $5s and $10s….singles are tacky and a very "1999" way of tipping…)
Oh, and over at R PLACE you can taste the Vitamin D enriched delights of RUPAUL'S DRAG RACE SEASON SIX contestant MILK who is in town and whooping it up with the "ladies" of Your Place. A handful of VIP tickets still available for tonight and SCADS of general admission; tickets HERE and here's  Da Poo:
Join us Friday March 7 and/or Saturday March 8 as RuPaul's Drag Race Season 6 star Milk Headlines with the Cast of Lashes. VIP seating is $25 and includes Cocktail Service and first to have your picture taken with Milk after the show. GA tickets are $12. There are very limited seats in GA and it's a 1st come 1st serve basis, all other GA is Standing room only. Doors are at 8:30pm, Showtime is at 9:30pm. All Shows are 21 & Up ONLY!

Also scheduled to perform in both shows is the R Place Lashes Cast. Starting out with Seattle Drag Icons Lady Chablis and Robbie Turner. These 2 have been entertaining Seattle Audiences for over a decade. With Impersonations such as Liza Minelli, Whitney Houston, Lady Gaga, Tina Turner, and many more. Fellow Lashes Cast members La Saveona Hunt and Amora Dior Black will also be hitting the stage. These 2 dancing queens have been rocking the stage at R Place for over 2 years and both are former pageant winners. La Saveona is a former Nubian Queen and Amora Dior Black is your Reigning La Femme Magnifique International.
One quibble: pretty sure Lady Chablis and Roberta Turnblad have been entertaining Seattle Audiences for more than A decade….many, many, many decades in fact. Hundreds of them.
As for Their Place, it's their VERY poopular MARCH MADNESS event with big name drag divas from RPDR jetting in to entertain the suburban masses. Milk is this weekend, followed by old timers SHANGELA (nicely healing from a nasty broken leg) and the oddly popular ALYSSA EDWARDS next week; LAGANJA ESTRANJA the following week and then the fabulous LATRICE ROYALE closes out the month. Grab your tickies over HEAH!
For a shitty (weatherwise) night, that's a lot of great options…
(Visited 1 times, 1 visits today)