March 6, 2020

•
by
Michael Strangeways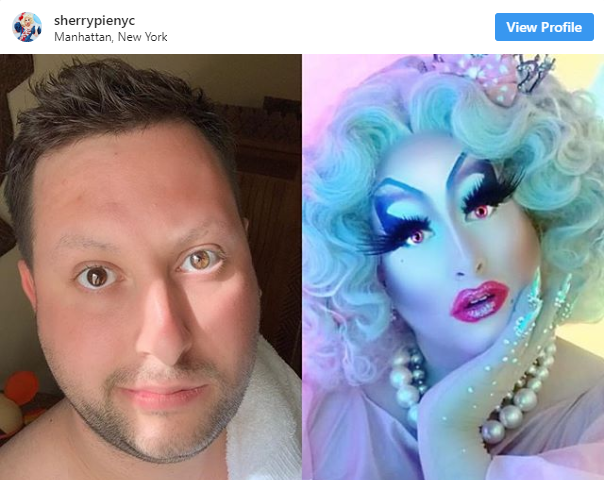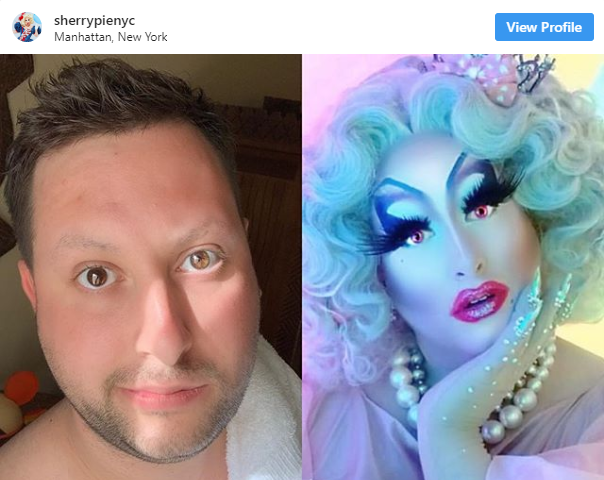 Surprising it took 12 seasons for this kind of scandal to happen on RuPaul's Drag Race, the long running reality/drag competition series hosted by RuPaul. World of Wonder, the production company behind "Drag Race" announced today that it was disqualifying Season 12 contestant SHERRY PIE due to allegations the performer took part in "catfishing"; pretending to be someone else online in order to take advantage of another person.
In this instance, it's kind of awful… Sherry Pie is actually 28 year old New York based performer Joey Gugliemelli who has been accused by several men of coercing them to perform sexual acts online in order to land roles in entertainment projects that Gugiemelli was supposedly casting for, in the guise of other personalities online. In other words, Gugliemelli is accused of being a sex predator.
After the performer was announced as a contestant on this season of RuPaul's Drag Race, victims started stepping forward including actor Ben Shimkus who claimed he was asked to do degrading things in audition videos. Another victim, Josh Lilyman claims he was coerced into masturbating on camera.
Sherry Pie/Gugliemelli admitted to the crimes via his social media and issued an apology on Facebook Thursday, March 5th:
"This is Joey, I want to start by saying how sorry I am that I caused such trauma and pain and how horribly embarrassed and disgusted I am with myself. I know that the pain and hurt that I have caused will never go away and I know that what I did was wrong and truly cruel. Until being on RuPaul's Drag Race, I never really understood how much my mental health and taking care of things meant. I learned on that show how important "loving yourself" is and I don't think I have ever loved myself. I have been seeking help and receiving treatment since coming back to NYC. I truly apologize to everyone I have hurt with my actions. I also want to say how sorry I am to my sisters of season 12 and honestly the whole network and production company. All I can do is change the behavior and that starts with me and doing that work. "
The public outcry over the situation eventually led World of Wonder to issue their own statement on Friday, March 6th via Entertainment Weekly:
"In light of recent developments and Sherry Pie's statement, Sherry Pie has been disqualified from RuPaul's Drag Race," VH1 and production company World of Wonder said in a statement to EW. "Out of respect for the hard work of the other queens, VH1 will air the season as planned. Sherry will not appear in the grand finale scheduled to be filmed later this spring."
World of Wonder hasn't announced how they will deal with the situation as the series airs over the next several weeks. The 12th season debuted last week in the first of 2 parts to introduce the cast; ironically, Sherry Pie wasn't even featured in that first episode. She's not set to debut until the Friday, March 6th episode. The series was shot last year and has probably already been mostly edited into viewing episodes. The production company did stress that Sherry Pie/Gugliemelli would not be allowed to participate in the final, yet to be filmed episode where the winner is revealed.
SPOILERS AHEAD!!!!
There's also allegedly another problem for them to deal with…hardcore RPDR fans who obsess over every episode, elimination and winner have already supposedly found out that Sherry Pie does very well in this season and is rumored to be one of the final queens left standing.
There's also the issue of how will all the clubs and venues who have booked Sherry Pie deal with the situation? In the age of #CancelCulture it's unlikely that many fans are going to allow someone who has admitted to being a sex predator to have much of a performing career. Sherry Pie is scheduled to perform at Seattle's R Place on March 28th. As of this posting, the event is still scheduled to occur.
There are similarities here to Seattle's own Robbie Turner, a contestant on Season 8 of RPDR who lost her performing career after lying about being in a deadly but non-existent car accident two years ago. But, Sherry Pie seems like she is beyond redemption and destined to enter the " Robbie Turner Delusions Lounge of Disgraced Former RPDR Contestants" for all eternity.
(Visited 67 times, 1 visits today)
As the Editorial Director/Co-Owner, Michael Strangeways writes, edits and does about a million other jobs for Seattle Gay Scene, Puget Sound's most visited LGBTQ news, arts and entertainment website now celebrating its 14th year as a media outlet. A semi-proud Midwesterner by birth, he's lived in Seattle since 2000. He's also a film producer who would like you to check out the Jinkx Monsoon documentary, "Drag Becomes Him" now available on Amazon.com. In his spare time, he gets slightly obsessive about his love for old movies, challenging theater, "otters", vodka, chocolate, "I,Claudius", Lizzie Borden, real books made out of paper, disaster films, show tunes, Weimar era Germany, flea markets, pop surrealistic art, the sex lives of Hollywood actors both living and dead, kitties, chicken fried steak, haute couture and David Bowie. But, not necessarily in that order.
Related Posts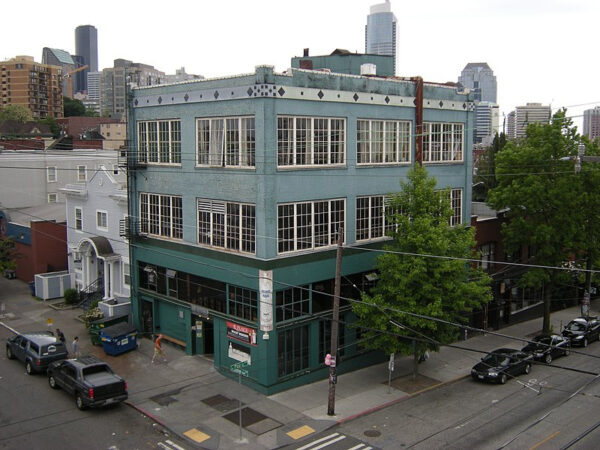 *Coronavirus Pandemic • *Dragolicious • Arts & Entertainment • Arts News • Business News • Capitol Hill News • Community • Community Events • Community Leaders • Community News • DJ Dance Party • Drag • Drag O'Tainment • Galas and Parties • Living • Mark Your Calendars • New Year's Events • News • Nightlife • Queer News • Seattle Lesbian Scene • Seattle News • Seattle Queer History • Seattle Transgender Scene • Trans* Events • We Love The Nightlife • Women's Events
Fans of LGBTQ+ nightlife in Seattle, and specifically Capitol Hill,
...