We kind of knew it was coming but the reality of Washington State Governor Jay Inslee announcing that the City of Seattle and the surrounding metro area would essentially shut down all public gatherings over 250 people was still a shock. Inslee made that announcement Wednesday, March 11th in a press conference that in order to contain the spread of the virus known as Covid-19, public events in King, Snohomish and Pierce Counties would be canceled. Later that day, the Seattle School District also announced they would be cancelling classes.
The rest of Wednesday has featured a steady stream of announcements of events being cancelled or postponed as well as some venues announcing they would shut their doors altogether until the health crisis had passed. The Governor's announcement was aimed at larger public events but due to low patronage at many locations, smaller events have been shut down as well.
For LGBTQ Seattle, that means many community events aren't happening including many entertainment events in bars, clubs and theaters. We're trying to update the SGS Calendar, but we suggest that before you head out to ANY event, regardless if it's a one off or a regular recurring event, that you check to make sure it's still happening by checking social media and/or websites for any venue/producer of any show you plan on attending.
Best estimates are these cancellations, postponements and closures will go on until the end of March but could go longer depending on the status of the Covid-19 health crisis.
We are aware of the following major changes/closures for LGBTQ Seattle.
The Kremwerk + Timbre Room Complex at 1809 Minor will be closed for the rest of the week with all events cancelled. They will evaluate on a weekly basis if they will be open or closed.
Just around the corner from Kremwerk, beloved cabaret bar Re-bar, 1114 Howell has announced they are closed for the foreseeable future. And, Scott Shoemaker has announced his Ms Pak-Man cabaret show scheduled to open March 26th at that club, will be postponed until a later date.
Moving up to the heart of Seattle's LGBTQ neighborhood, R Place, 619 East Pine has cancelled their March Dragness special events featuring stars from RuPaul's Drag Race Season 12 but the club will be open regular hours and regular weekly events including Lashes Drag Cabaret are still scheduled.
The Seattle Eagle, 314 East Pike is open with all regular events still scheduled.
Neighbours Night Club & Lounge, 1509 Broadway (with entrance in alley), one of Seattle's oldest/biggest clubs, is open for business with their popular Thursday night College Night/Vibes Drag Show still scheduled for Thursday as well as their popular Friday and Saturday night DJ'd parties and Sunday night's Latin "Eskandala" Party.
The Wildrose, Seattle's only lesbian bar, at 1021 East Pike Street is open for business with all events still scheduled.
Queer/Bar, 1518 11th Ave and The Cuff Complex, 1533 13th Ave, both owned by Joey Burgess are both staying open but are shutting down most of their events. They released this statement today: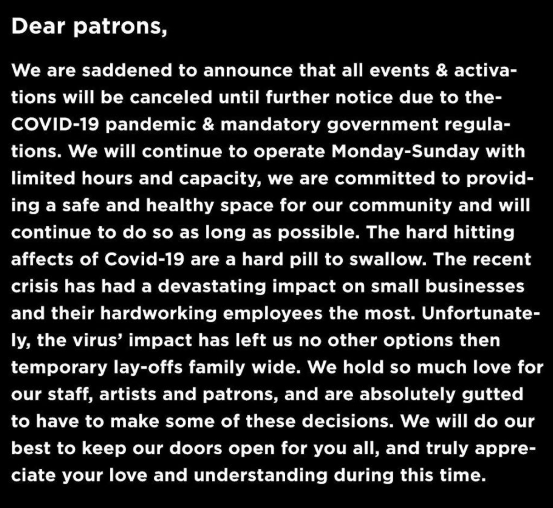 For the entire Madison/Union block of bars it seems like it's business as usual. At Madison Pub, 1315 E Madison St; Diesel, 1413 14th Ave; Union Seattle, 1318 E Union St; and Pony, 1221 E Madison it's regular business hours and events still being scheduled.
Mimosas Drag Brunch Cabaret at Unicorn and the LeFaux shows at Julia's on Broadway are still doing their shows every weekend.
Beloved karaoke dive bar The Crescent, 1413 E Olive Way, is open for business.
CC Attles's (1701 E Olive Way) Chris Daw issued this statement on Wednesday:
In response to this morning's announcement from the Governor and County health officials, we have reduced our allowable occupant load from 290 to 150.

This is fewer than the Governor's order of 250 but should allow those that do choose to come out, adequate space to de-stress and not be on top of each other. Thereby providing a safer environment for all.

We are postponing all events currently on the calendar to later dates. We will also be suspending the showing of RuPaul's Drag Race on Friday nights.

We will remain open as long as we are able to comply with the guidance established by the State and County health authorities.

People that are at a higher risk due to underlying health issues and customers older than 60 should consider staying away in the interest of your personal safety (We love you but as fun as an afternoon at CC's can be, it's not worth the risk to you!)

Thanks for your understanding, we are all in this together!
Chris
Out in the neighborhoods, The Clock-Out Lounge, 4864 Beacon Ave South on Beacon Hill, is open. But, check their social media for any changes in their event line-up. It's the same situation at The Palace Theatre & Art Bar in Georgetown, (5813 Airport Way S). And, both venues in White Center: The Lumber Yard Bar (9619 16th Ave SW) and the across the street Swallow Bar (9608 16 Ave SW) are both open with all events currently scheduled to occur.
If you do decide to go out to a venue, here's some tips courtesy of Queer Bar/Cuff Complex: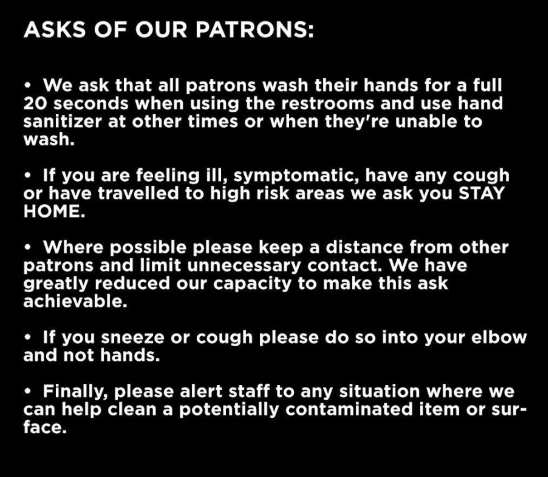 We're also gonna add a couple things. Covid-19 has so far shown itself to be not very threatening to younger people; very few fatalities for people under 40 but EVERYONE can spread the virus so a relatively healthy younger person with a mild case of it CAN spread it to people who are at a far greater risk of a severe or even deadly case of it. If you regularly live/work/interact with people at a higher risk, please take care as well not to spread it to them!
ALSO at risk are people with compromised immune systems and ongoing health issues. This can be anyone of any age…if you have a history of bronchial infections or have had pneumonia or just had surgery or any kind of recent serious illness, you have compromised health/immune system that can put you at risk with Covid-19 which essentially attacks the lungs. The more boxes you check (age, health issues, recent travel to areas/places where Covid-19 is thriving) then the more likely you need to take precautionary care of yourself…and, probably avoid unnecessary contact with other people until you're out of the risk zone.
For more info about Covid-19 in Seattle/King County, go here.
Also: here's a great story on "How Not To Panic" with lots of great info about the virus and pandemic.
We'll update as we get more information.
(Visited 1 times, 1 visits today)