March 19, 2021

•
by
Michael Strangeways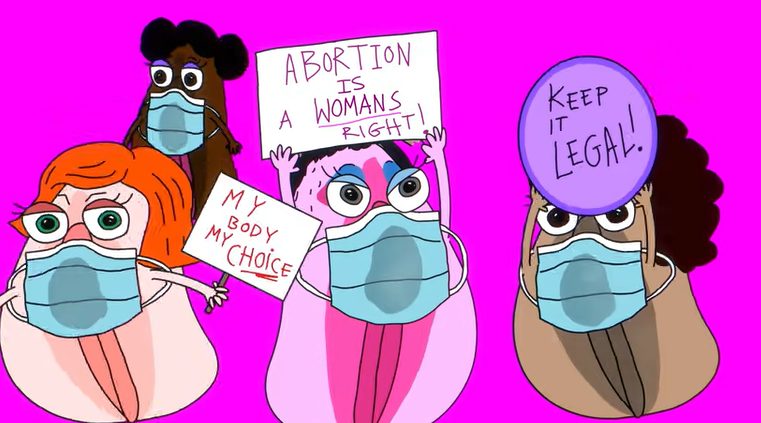 She's still making sassy, relevant music…PEACHES, the legendary bisexual Canadian musician and performance artist known for her edgy, sexy and highly provocative songs (like "Fuck the Pain Away" her signature hit from 2000's Teaches of Peaches album) just released a brand new single and video and as usual…
She's all about that pussy.
And, political statements.
We love her.
The new song is PUSSY MASK and it's ALL about wearing masks in the Age of Covid but it's also about PUSSIES (or "vaginas" for those who prefer the formality) and it's also about the current political scene in the United States so naturally the song (and the accompanying adorable animated video of the song) includes shout outs and appearances by recently deceased Supreme Court Justice Ruth Bader Ginsburg as well as the very much alive and kicking Alexandria Ocasio-Cortez, the gutsy, modern young congresswoman from New York. And, no modern popular cult song about Covid-19 wouldn't be complete without a Very Special Guest Appearance from the one and only immunologist Dr. Anthony Fauci.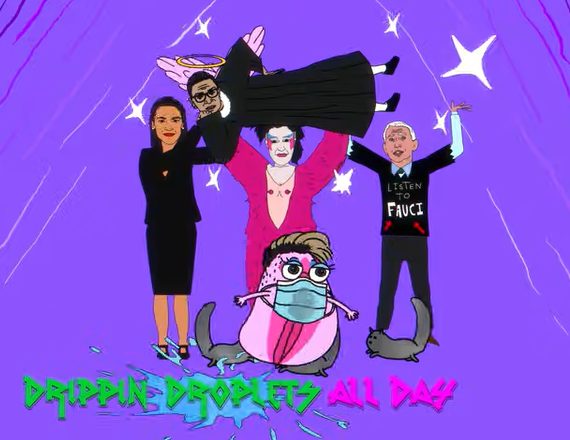 All this means the song includes lyrics like this:
Put my pussy in the Senate
Have my pussy as your tenant
Wear my pussy as a pendant
Pussy pussy pandemic
Pussy get credit
Pussy trend on reddit
Pussy don't sweat it
Pussy want it
Pussy get it
But also:
My pussy wear a mask
My pussy don't play
My pussy wear a mask
Take cover from the spray
My pussy wear a mask
Drippin' droplets all day
My pussy wear a mask
Public hazard, doomsday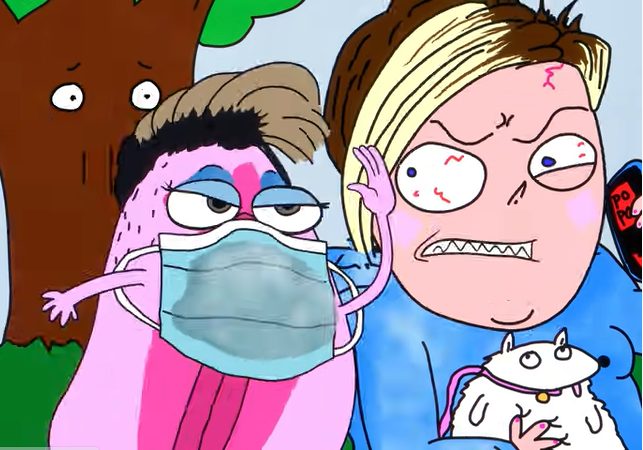 It's a fun song and also a saucy political song so naturally we love it. (Also, it features some 'Karen' slapping!) And, the animation is simple but well done (the video was directed by Leah Shore who also did the animation with Rob Yulfo.) And, yes, there are a lot of mask wearing little pussies in the video…you can also buy lots of cool merch with that cute little pussy on it over HERE!
A message from Peaches:
"PUSSY MASK" HAS ARRIVED!!!

Watch the video: https://youtu.be/4Yg-PKUlgeE Stream + shop new merch & limited edition Third Man Records vinyl – including a picture disc!! https://orcd.co/peaches #teachesofpeaches #pussymask #mypussywearamask #mypussydontplay #ouchieouchie #listentofauci
(Visited 9 times, 1 visits today)
As the Editorial Director/Co-Owner, Michael Strangeways writes, edits and does about a million other jobs for Seattle Gay Scene, Puget Sound's most visited LGBTQ news, arts and entertainment website now celebrating its 14th year as a media outlet. A semi-proud Midwesterner by birth, he's lived in Seattle since 2000. He's also a film producer who would like you to check out the Jinkx Monsoon documentary, "Drag Becomes Him" now available on Amazon.com. In his spare time, he gets slightly obsessive about his love for old movies, challenging theater, "otters", vodka, chocolate, "I,Claudius", Lizzie Borden, real books made out of paper, disaster films, show tunes, Weimar era Germany, flea markets, pop surrealistic art, the sex lives of Hollywood actors both living and dead, kitties, chicken fried steak, haute couture and David Bowie. But, not necessarily in that order.
Related Posts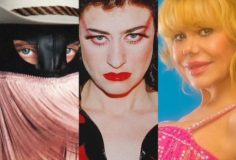 *Dragolicious • Arts & Entertainment • Bars & Nightclubs • Capitol Hill News • Coming Attractions • Community • Community Events • Community News • Concerts • DJ Dance Party • Drag • Drag O'Tainment • Gay 101 • Gay News • Mark Your Calendars • Music • Music - Pop • News • Nightlife • Over 21 • Pride • Queer Music • Queer News • Seattle Lesbian Scene • Seattle News • Seattle Pride 2023 • Seattle Transgender Scene • We Love The Nightlife
OH, and Pabllo Vittar and Trixie Mattel, too. And some
...