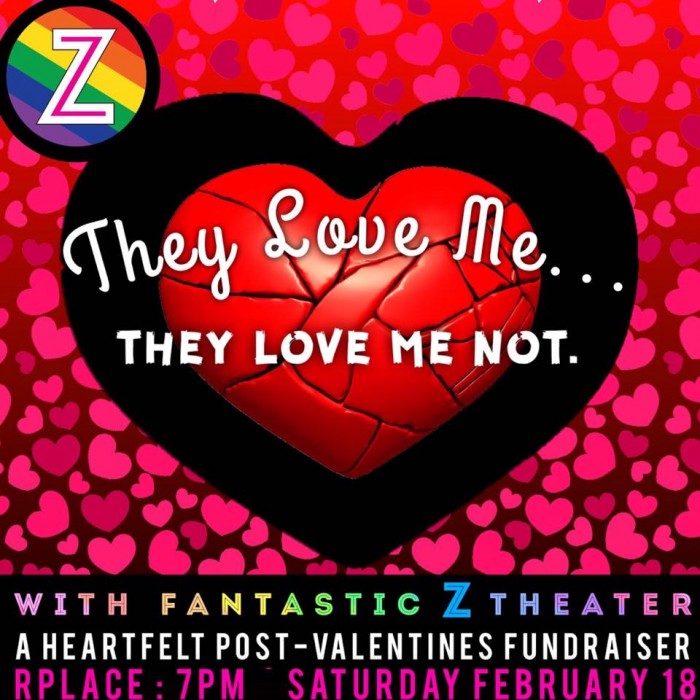 Seattle's LGBTQ theater company, FANTASTIC Z is getting ready to go into rehearsals for their first show of 2017 (BAD PANDAS which opens March 23rd and runs through April 8th at Theatre Off Jackson in the International District…more on that show closer to opening) but in the meanwhile, they'd like to earn a bit of scratch to pay for things like greasepaint and rehearsal room snacks so they're staging a little fundraiser called "They Love Me…They Love Me Not…" this Saturday, February 18 at 7 pm at R Place, 619 Pine Street on Capitol Hill. There will be special guests and performances and a raffle and…more info:
Now more than ever we need to continue to lift up queer voices and queer arts!

It's just 1 week away! 7pm Saturday February 18th is Fantastic.Z Theatre's post Valentine's Day fundraiser They love me. They love me not.
Hosted by our friends at R Place, they'll have the drinks and we'll have a 50/50 raffle where you can WIN CASH!
You are strongly urged to attend this event. We desperately need to keep these people BUSY and off the streets…there's nothing more dangerous than homosexuals without a show to put on! They get restless and horny and that leads to all sorts of mischief and venereal disease epidemics…
(Visited 1 times, 1 visits today)