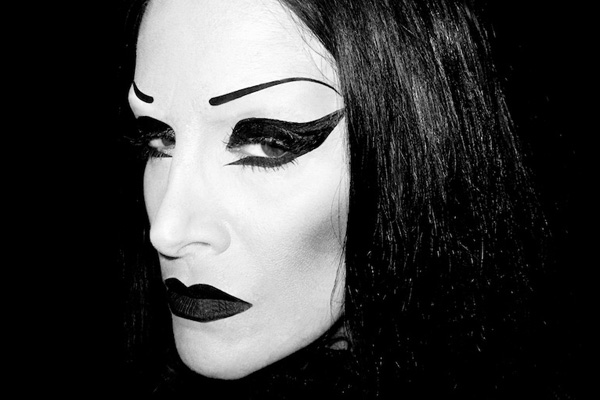 No….it's not Sharon Needles.
It's a strange twist of fate that on the same night as the Seattle Red Dress Party, an acclaimed AIDS activist will be performing at The Neptune Theatre in the U-District. On Friday, March 31, 2017 Seattlites will have to choose between Red Dress Party or seeing the divine, incomparable, not easy to describe "avant-garde avant-garde soprano, composer, pianist, organist, performance artist, and painter" known as Diamanda Galás.
Many people will ask: WHO is Diamanda Galás, but to those who are aware of her unique talents, she is a goddess. Not only for her artistry and uniquely "goth" persona but for her legendary work as a very vocal and powerful AIDS activist in the 1980s and her political activism for social justice issues continues to this day, with much of her work focusing on issues near and dear to her heart. This announcement of her performance at The Neptune will very definitely excite a substantial number of her "believers"….Galás fans are very passionate about their adoration of the Diva.
Tickets go on sale Friday at 10 am.
Added info: Seattle is indeed lucky to get this show…she's only doing a 6 city tour and she's kicking it off in Seattle!
Avant-garde vocalist Diamanda Galás will support her two upcoming LPs – All the Way and At Saint Thomas the Apostle Harlem – with a six-date tour that marks her first U.S. shows outside of New York in years.

Galás will perform selections from her two new albums, her first since 2008's Guilty Guilty Guilty, during the trek, which kicks off March 31st at Seattle's Neptune. The tour will also hit Los Angeles, San Francisco, New Orleans and Austin before concluding April 17th at Chicago's Thalia Hall.
She must really love us!!!
Diamanda Galás

Date: Friday, March 31, 2017 @ 9:00PM

Venue: The Neptune

Age Limit: All Ages

Price: $43.50 (not including applicable fees)

Seating: General Admission, Seated

On Sale: Friday, February 17, 2017 @ 10:00AM

Ticketing Information: Available online at Ticketmaster.com, in person at the Paramount box office, or may also be purchased by phone at 1-800-745-3000. For more information, visit 

Diamanda Galás is hailed as one of the most important singers of our time. Galás has earned international acclaim for her highly original and politically charged performance works. Notable among these are Plague Mass, Defixiones: Orders from the Dead, Vena Cava, Schrei X and The Refugee. Most recently, her performance work has concerned the musical setting of texts written by exiled poets and writers worldwide. She was the first recipient of the Demetrio Stratos award, Italy's prize for musical innovation.

In 2010 Galás collaborated with filmmaker Davide Pepe to create the experimental sound and film work Schrei 27, an unrelenting portrait of a body suffering torture in isolation. In 2012 Galás began her collaborations with orchestrator Jon Ølvind Ness, resulting in a groundbreaking concert with the Norwegian Radio Orchestra at the Kanonhallen. Also in 2012 Galás presented a lecture-performance, In the Mouth of the Crocodile, at the "Weaving Politics" Symposium in Stockholm (alongside Julia Kristeva and choreographer William Forsyth), and opened Antony Hegarty's Meltdown Festival at the Southbank Centre in London.

Galás' work in progress Espergesia (with words by Cesar Vallejo, from The Black Heralds), was recently performed solo a capella in the Emanuel Vigeland Mausoleum in Oslo, with no electronics or amplification, within the space's natural 25-second delay, in complete darkness. This was the first public performance of the 17-minute work, and it began what Galás hopes to be a series of performances of the work in highly reverberant sacred spaces.
(Visited 8 times, 1 visits today)