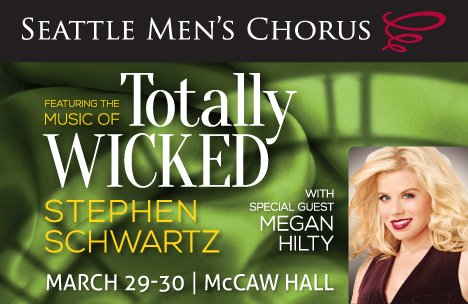 WICKED is the musical that will never fade away…or, so it seems judging by the fact it's constantly in our consciousness and being performed somewhere. In fact, you can see it EVERY Sunday (well, portions of it) at MIMOSAS WITH MAMA at The Narwhal as Mama Tits and her talented cast perform a 4o minute-ish version of Wicked/The Wizard of Oz and The Wiz for the second act of their weekly drag brunch show. I've seen it…it's terrific! You should go. (Check out the ad at the right, towards the bottom to snag tickets.)
But, I digress.
WICKED is the musical version of the Gregory Maguire novel that offered his biographical take on the "real" story of the Wicked Witch of the West, the beloved character originally created by L. Frank Baum over a hundred years ago and immortalized by Margaret Hamilton's iconic performance in MGM's 1939 musical, THE WIZARD OF OZ. Composer and lyricist STEVEN SCHWARTZ adapted the book to the musical stage and WICKED instantly became a smash hit in 2003.
For their spring concert, Seattle Men's Chorus decided to honor Mr. Schwartz with a show dedicated to his life's work. And, while the concert is titled TOTALLY WICKED in honor of Schwartz's most recent hit show, you'll be hearing a lot more than "Defying Gravity" and "Popular". As a very young composer, Stephen Schwartz had back to back hits in the early 70s with GODSPELL and PIPPIN with both shows entering the canon of great Broadway musicals. And, while subsequent Broadway shows like THE BAKER'S WIFE, WORKING and RAGS failed to achieve the same level of financial success as the first two mega hits, there are beloved songs from all those shows as well as Mr. Schwartz's film work on the scores for the Disney films POCAHONTAS, THE HUNCHBACK OF NOTRE DAME and ENCHANTED as well as the score and songs for the animated film, THE PRINCE OF EGYPT. The Seattle Men's Chorus will feature songs from many of these films and stage productions for TOTALLY WICKED, which runs Saturday, March 29 at 8 pm and Sunday, March 30 at 2 pm, with both performances at McCaw Hall. Get tickets HERE!
AND, the lovely Broadway and television star (and Bellevue native) MEGAN HILTY will also be the featured Special Guest Soloist for the show so in addition to all those hunky men in the chorus, there'll also be some lovely Female Eye Candy on hand…not to mention a soprano, a lovely contrast to all those manly tenors and basses. Ms Hilty also brings authentic WICKED credibility to this show; she starred on Broadway as Glinda!
(We'd also love to get her in a corner and ask her about all sorts of juicy Broadway theater gossip…not to mention all the dish from the SMASH set….)
So, what's keeping all you WICKEDphiles from buying tickets? Get to it…
(Visited 1 times, 1 visits today)