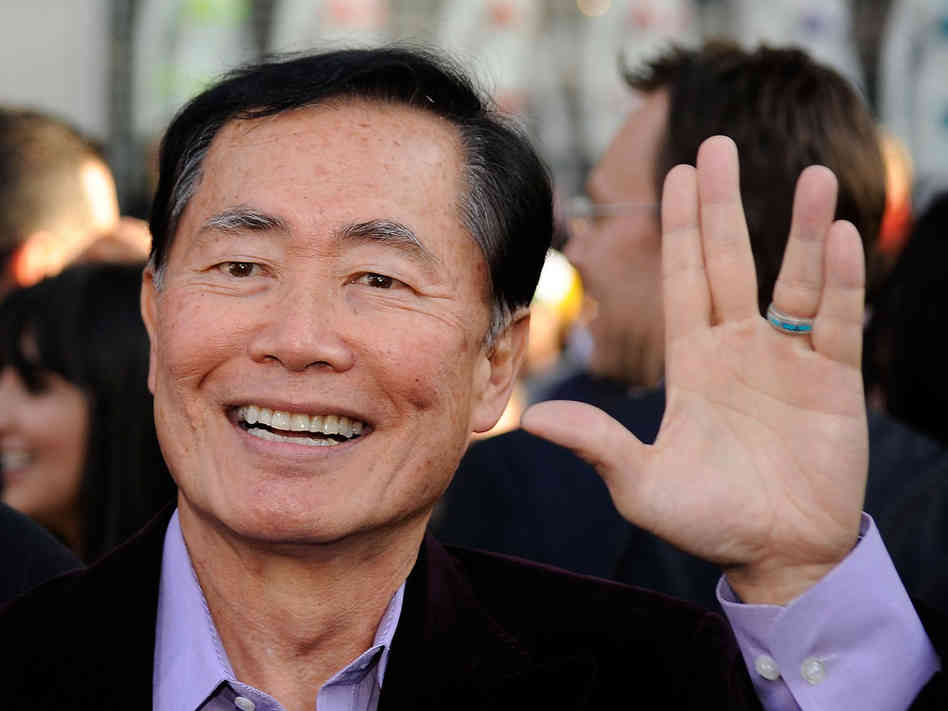 Reasons why it behooves one to get up early…if you don't, you get scooped on juicy breaking news like the just released info that Star Trek's beloved Mr. Sulu, the out and about actor GEORGE TAKEI is the celebrity Grand Marshal for Seattle Out & Proud's 2014 Seattle Pride Parade which happens Sunday, June 29, 2014. To make things even more special, it's the 40th Anniversary of Seattle Pride and there will be all sorts of special treats announced in the weeks ahead to commemorate the occasion. (Please note: it's the 4oth anniversary of Seattle Pride and not of the parade which started 4 years later!)
Here's more enthusiastic rhetoric about Mr. Takei and his delightful choice as a Grand Marshal:
Seattle Out & Proud, organizers of Seattle Pride, are thrilled to announce that George Takei will lead this year's Seattle Pride Parade as Celebrity Grand Marshal.

With a career spanning more than five decades, Takei is known around the world for his founding role in the acclaimed television series Star Trek, in which he played Hikaru Sulu, helmsman of the Starship Enterprise.  Takei starred in three seasons of Star Trek and later reprised his iconic role in six movies.  As an actor, social justice activist, social media power, author of "Lions and Tigers and Bears: The Internet Strikes Back" and "Oh Myyy! There Goes the Internet," and star of upcoming Broadway musical Allegiance, Takei has used his roles and public persona to advance LGBT and human rights around the world.  Mashable.com reports Takei is the most-influential person on Facebook, with more than 6.4 million likes. Takei has more than one million followers on Twitter.

Takei, a Japanese American who was interned in two U.S. internment camps during World War II from ages 4 to 8, is an outspoken supporter of human right issues and a community activist.  Takei is chairman emeritus and a trustee of the Japanese American National Museum in Los Angeles. Takei, who is openly gay, has served as the spokesperson for the Human Rights Campaign "Coming Out Project" and was cultural affairs chairman of the Japanese American Citizens League.  He was appointed to the Japan-U.S. Friendship Commission by former President Clinton and the government of Japan awarded Takei the Order of the Rising Sun, Gold Rays with Rosette, for his contribution to U.S.-Japanese relations. His Majesty, Emperor Akihito, conferred the decoration at the Imperial Palace in Tokyo.  Asteroid 7307 Takei, located between Mars and Jupiter, was named in the performer's honor in appreciation for his social work in 2007.

Takei lives in Los Angeles with his husband Brad Takei. They have been together for 27 years and were married on Sept. 14, 2008, at the Japanese American National Museum in Little Tokyo, Los Angeles.
We ADORE George Takei…in fact, who DOESN'T adore the man? He's funny, smart and a terrific leader for the community. SGS supports his choice as a Grand Marshal one billion percent! EVERY Day should be GEORGE TAKEI DAY!!!
And, in the days/weeks ahead the REST of the LOCAL grand marshals will be announced by Seattle Out & Proud. Some of them will make you cheer with delight, others you might not be so crazy about and some will have some of you scratching your head, and thinking "WHO?"
Tags: George Takei, Grand Marshal, Seattle Out & Proud, Seattle Pride 2014, Seattle Pride Parade, sgsapp, SO&P