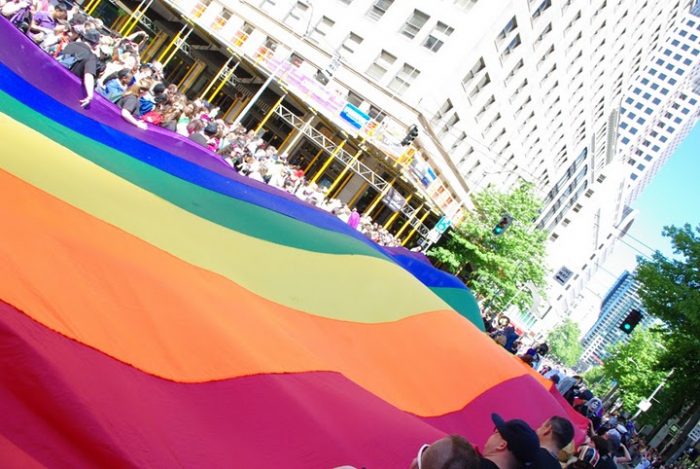 Seattle Out & Proud, the community group more commonly referred to as "Seattle Pride" (and to clarify, they're the group who puts on the downtown parade every year, in addition to other events) announced a couple weeks back that they're sharing $25,000 with area organizations providing support to community members during the Covid-19 worldwide pandemic.
This week, Seattle Out & Proud announced the following organizations will be receiving grants:
"Mil gracias to Seattle Pride for its generous grant to El Centro de la Raza's Emergency Response Fund. This unprecedented crisis is inequitably impacting the most vulnerable children, youth, families and seniors we serve who already face barriers to housing, employment, education and food security. Many are not eligible for public financial relief programs, so these funds will help us address the growing need for food, rent, utility, and other basic needs assistance in our community." – Estela Ortega, Executive Director, El Centro de la Raza (The Center for People of All Races)
"Entre Hermanos is proud to be included in the grant from Seattle Pride. Thanks to this support, Entre Hermanos will be able to provide critical services to our community, especially undocumented individuals hit first and hardest by the outbreak." – Eric Holzapfel, Deputy Director, Entre Hermanos
"On behalf of FEEST, we are deeply grateful for Seattle Pride's support. This grant helps ensure that youth and families in South Seattle and South King County have access to fresh, free, culturally relevant food as we collectively navigate the crisis." – Jaimée Marsh, Executive Director, FEEST
"On behalf of Ingersoll Gender Center, thank you Seattle Pride for your continued support of our communities. Our communities have been hit especially hard by the COVID-19 crisis – your support will help us provide financial assistance through our Trans and Gender Diverse Emergency Aid Fund. Thank you again for helping us deepen our impact." –
Karter Booher, Executive Director, Ingersoll Gender Center
"The grant provided by Seattle Pride has allowed us to adapt and shift our support meetings to an online platform, as well as provide increased support via our help line and email channels. We're incredibly thankful." –  Deb Dahrling, President, PFLAG Seattle
"My heart dropped when I saw your donation. Our team is grateful that there are folks that protect the most vulnerable communities. We know there are families in need of urgent help and your support is critical in these strenuous times. There are disabled folks, single mothers, LGBTQIA+ folks, indigenous communities, and other identities that will greatly benefit from this support. Of course, it's about financial assistance but it's about showing undocumented folks that they matter in this country." – Guadalupe M.M., South Seattle Community College GoFundMe Student Organizer, COVID-19 Relief Fund for Undocumented People
"We are very appreciative of the support from Seattle Pride. The love and support come at a very important time for our UTOPIA family, as we face myriad challenges due to COVID-19." – Taffy Johnson, Executive Director, UTOPIA Seattle
"We are grateful to Seattle Pride and other supporters  of our emergency fund. Though these circumstances were unexpected, Ventures is pivoting our programs in response to community needs, and we have no doubt that these programs will have a lasting impact for our organization and our clients." – Beto Yarce, Executive Director, Ventures
"We know that LGBTQIA+ and undocumented communities are more likely to work in jobs in highly affected industries, often with more exposure or higher economic sensitivity to the COVID-19 crisis," said Seattle Pride Executive Director Krystal Marx. "Our community knows firsthand the importance of compassion and standing together, which are at the core of these emergency fund grants and the great work of the recipient organizations."

"I'm so proud of the diversity of organizations and grassroots efforts that our grant program is supporting in this time of community need," added Marx. "Our community has many faces, and we're all in this together."

Each year Seattle Pride awards grants to charitable organizations which support the local LGBTQIA+ community. This year the organization plans to award $75,000 in grants, totaling nearly $120,000 since 2017.
About Seattle Out & Proud/Seattle Pride

Seattle Out & Proud/Seattle Pride is the not-for-profit organization which produces the Seattle Pride Parade, Seattle Pride in the Park and other pride-related events and promotions, as well as providing grants and sponsorship support to community-based LGBTQIA+ organizations statewide, and year-round advocacy in support of diversity, inclusivity and equal human rights for all.

To learn more about the Seattle Pride and Pride-related events, grants and advocacy visit www.seattlepride.org, subscribe to our e-newsletters and advocacy alerts, and follow on Facebook, Instagram and LinkedIn @SeattlePride and on Twitter @OurSeattlePride.
(Visited 1 times, 1 visits today)