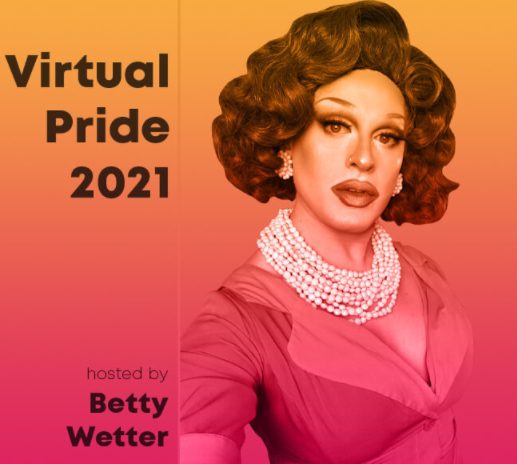 Seattle Pride/Seattle Out & Proud, the producers of the city's annual LGBTQ Pride Parade and other events, have announced the theme for Seattle Pride 2021:
'Resilience!'
Which is pretty apt since we need a lot of that to cope with the stresses of modern life…though, it's a good thing there isn't an actual parade this year because how do you make a "resilience" float?
"The Wizard of Oz" as a theme is sooooo much EASIER!!
The bulk of this year's virtual Pride events will happen June 26 and 27 with Seattle drag darling BETTY WETTER as the chief host for the virtual party.
SO much more info below from the press release:
SEATTLE – March 15th  – Seattle Pride has chosen 'Resilience!' as this year's theme for Seattle's LGBTQIA+ Pride Month virtual festivities.

The theme was selected from more than a dozen ideas submitted by the public, at the request of Seattle Pride which produces the Seattle Pride Parade and Seattle Pride in the Park.
"We are extremely excited to lead virtual Pride with this uplifting theme. Our community has been greatly affected by the pandemic on top of other barriers faced on a daily basis, and this year's theme is a testament to that resilience," says Seattle Pride Executive Director Krystal Marx. "While we will miss hosting our signature events, Seattle Pride in the Park and Seattle Pride Parade, we look forward to bringing our community together in celebration of diversity with a jam-packed virtual Pride weekend on June 26th and 27th."
In late January the organization announced its decision to go virtual for the events again this year in adherence to COVID-19 public health protocols. This year's virtual Pride celebration will be emceed by popular drag performer, Betty Wetter. Wetter is a Seattle staple among the LGBTQIA+ community and is looking forward to another year as a Seattle Pride host. Alongside Wetter, the event will feature speakers, panel discussions, games and performing artists.
Similar to last year, Seattle Pride is accepting online submissions for a limited number of 30-minute program windows during the two-day virtual event in June. Performers chosen by Seattle Pride will be contacted directly and paid for their time. Those who are interested can sign up at https://seattlepride.typeform.com/to/G4TD0Nf9 by April 1st. Seattle Pride especially seeks to prioritize BIPOC and LGBTQIA+ submissions.
Seattle Pride is also asking for volunteers to help with online safety during the two-day event by monitoring comments online. People interested in volunteering can sign up at https://www.seattlepride.org/get-involved. Additionally, Pride is accepting community and vendor booth submissions through May 1st which can be submitted online at https://seattlepride.typeform.com/to/evhbL977.
Attendees can learn more about the virtual Pride event and sign up to participate at https://www.seattlepride.org/virtual-pride-2021.
Seattle Pride's virtual festivities are made possible with support from presenting partners Alaska Airlines, Facebook and T-Mobile among many other community partners, including KIRO 7, Seattle Pride's official TV partner. For information on how to help support this year's events, contact sponsorship@seattlepride.org.
About Seattle Pride
Seattle Pride is the (501(c)4) not-for-profit organization which produces the Seattle Pride Parade, Seattle Pride in the Park and other pride-related events and promotions, as well as providing grants and sponsorship support to community-based LGBTQIA+ serving organizations statewide, and year-round advocacy in support of diversity, inclusivity and equal human rights for all.
About Seattle Out & Proud Foundation
Seattle Pride's Seattle Out & Proud Foundation is a (501(c)3) non-profit foundation which exists to educate the public about the LGBTQIA+ community and the rights of its members; to eliminate discrimination against; and to further the civil rights of members of the LGBTQIA+ community by promoting the arts and supporting leadership development.
(Visited 3 times, 1 visits today)