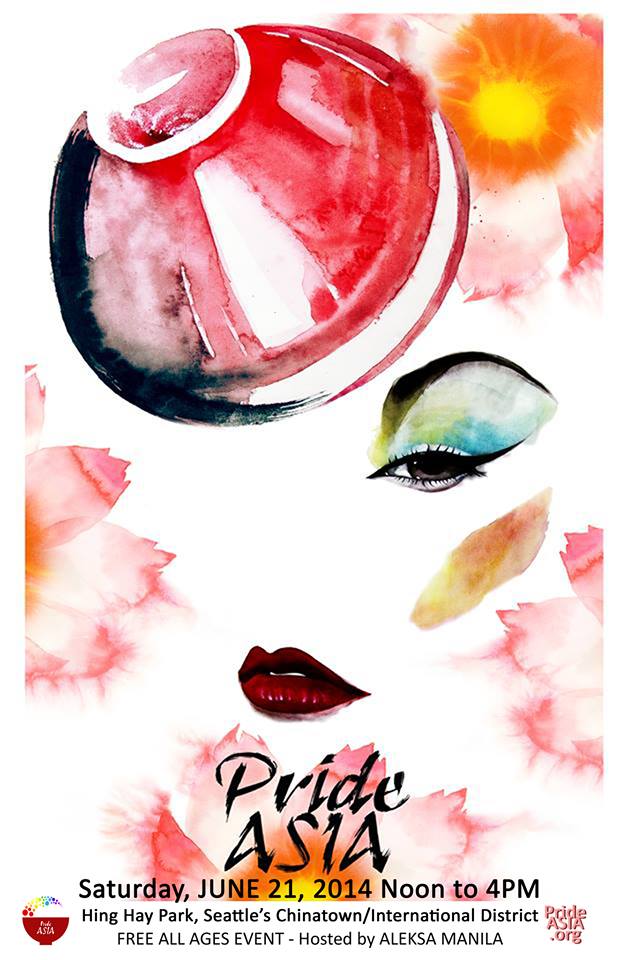 The weather is BEE-YOO-TEA-FULL today so it behooves you to get out and enjoy it. There are TWO big festivals going on today to indulge in, one that's queer and Asian, and the other is queer and naked.
The "Queer and Asian" option is Pride Asia, the newish annual festival for Seattle's out, proud and very vibrant Asian and Pacific Islander communities. It's NATURALLY happening in Chinatown/International District at Hing Hay Park from Noon to 4pm with your host, Pride ASIA Founder, ALEKSA MANILA.
Here's all the poo:
The Official Pride ASIA Coalition presents

The Official Pride ASIA Celebration
on ***SATURDAY*** June 21 from 12 noon to 4pm
at Hing Hay Park in Seattle's Chinatown/International District

FREE ALL AGES EVENT!

Hosted by Pride ASIA Founder Aleksa Manila
with Keynote Speaker Nic Masangkay

Music by DJ Lu Ying of Shameless
and DJ Bishie of JKPop Seattle

featuring special performances and presentations by

Miss UTOPIA Atasha Manila
Miss Gay Seattle Olivia La Garce
Miss Northwest Yahaira Rubi Arena
Miss Community Iyona Dior Black
Mr. Pride Seattle Jack Mozie
Miss Gay Pride La Saveona Hunt
Pride Idol 2014 Ruth Soto aka Latin Rose
La Femme Magnifique Seattle Diamond St. James Black
Miss Gay API International Tanya Rachinee
Pride Idol 2012 Chase Silva
Yee-shin Huang
FYA Drill Team and more!
And, since they decided to move Fremont's hugely popular SOLSTICE PARADE to 3 pm, you MIGHT get to enjoy both events…but, only if traffic cooperates with you. Due to many events and road construction, the traffic situation this weekend is probably going to be terrible…take your time and be patient!
As for the Fremont Solstice Fair/Parade, you really should check it out. It's a hippy dippy, lovefest with terrific DIY floats, NO advertising at all, and LOTS of naked, albeit painted, people. It's very queer friendly as well…a lot of those nekkid hippies are gay, bi or poly! FUN for the whole family!
Oh, the Parade is TODAY only, but the Fair continues TOMORROW as well.
Now, lets cross our little fingers and toes that we have this weather NEXT weekend for Pride!
Tags: Fremont Solstice Parade, Pride Asia, Queer Asian Events, Seattle Pride 2014, sgsapp