A long time ago, in a galaxy not so far away, there was a venue called ARO.space.  The stories about this venue are legendary, and for folks that have been around a minute (read:  old), the memories are amazing.  One of the best nights that happened at ARO.space was called HOTBOX.  It was primarily a lesbian night, but welcoming to the open-minded.  I had the extreme pleasure of being a resident DJ for the entire HOTBOX run, which lasted several years.
In the main room of HOTBOX, the format was mainly house music.  The side room was an eclectic mix of Hip Hop, Drum & Bass, and whatever the DJ's up there felt like cooking up that night.  The place full of happy lady loving ladies and their friends.  I've not seen anything quite like it since….
So in April, when DJ Julia reached out to ask me to play Libertine at Re-Bar, I was intrigued.  Libertine is a new, monthly night, produced by DJ's Julia and Irene L.  From the description, it felt a lot like some of that magical energy I once knew was, perhaps, going to see a revival.   Seattle can only be so lucky!
Julia and Irene were kind enough to indulge me a little Q & A about their new project, and the Pride edition of Libertine (Saturday 6/28 @ Re-bar).
**********************************************
LAK: I've known you guys for YEARS – but for the SGS readers who may not – give me a little background on each of you.
Julia: I came to Seattle in 1999 as a rogue teen from New Mexico, where I had already started being involved in music and event promotion. Before moving here I worked locally on both the Mushroom Jazz Tour and the legendary Kung Fu Knowledge Tour. Upon arriving in Seattle I began DJing and eventually doing events here. I've been involved in producing events here like Le Freak at the Wildrose and (whatsyour)Muse at the Mercury (an underground electro and techno night). I also studied design formally and work in New Media and entertainment. In my spare time I direct Indie Films. Musically I enjoy a wide range of styles. Everything from underground techno to the occasional latest pop hit. Lately I've been enjoying a lot of new breed and witch house as well as pop remixes, house, trap, and bass music.
Irene: I grew up with music.  From a collection of 45's and 12's to recording music tapes.  My favorite was designing the covers and giving it fun titles.  Every production – from events to digital, came from my child artist.   With my passion for music combined with my technical background, I got into playing vinyl in the late 90's collecting records every week by going to Platinum Records, Beats International, Zion's Gate, and one other across the old Piecora's… can't remember the name.   My training days of beat matching was with Miss Funk (thanks Kelly!) – beat matching at 130-135bpm, that was tough for the first few rounds. And my DJ name, Wasabi was decided by a few of my good friends.  It just weeks later that I landed my first paying gig of $350 for a party at The Wildrose, that was exciting!  Soon after I played at the Henry Art Gallery for the opening night of Japanese artist Takashi Murakami – which is one of my most memorable gigs.  And other local events followed such as Girl4Girl, Cherry at the War Room, What's Your Muse, Lick, Style Spring Fashion Shows, Hard Times, Decibel Festival, Rags to Riches, Seattle Pride, and Vancouver Pride,  to name a few.  I've been grateful for the experience to play in venues such as The Showbox, Neumo's, Chop Suey, Seattle Center, and others.  I've worked and collaborated with many wonderful people.  It's nice to be back doing event production again… and soon back to DJing more.  I've been off and on due to my professional career, but we all have to listen to our inner child artist to keep the balance!
LAK: What prompted you to start Libertine?
Julia: We felt there was plenty of parties in Seattle that address and give outlet to the more masculine end of the LGBTQ community as well as mainstream society. Women need to be celebrated and respected. We wanted to create a safe space for those on the feminine spectrum, but also be inclusive of those who appreciate and support feminism, equality and progress. Also important, we wanted to throw a really fun party where hot ladies can meet, explore, dance and party to a wide range of quality music and visuals!
Irene: Julia and I have been trying to collaborate a night for women for almost two years now.  And surely, the timing became right when my old friend, Michael Manahan, approached me with the idea to bring it to Re-bar.  We finally have a safe and welcoming place for women and our friends in the LGBTQ community as well as the friends who support us in the EDM community.
LAK: How do you like your home in Re-Bar?
Julia: Re-Bar is a historic club and bar that has been a fixture in Seattle for many years. Re-Bar has always been a safe space for the LGBTQ community. We are proud to be a part of that heritage, and are excited about the new changes and improvements being made to the club. The sound system is really awesome and we can't wait to see how things develop.
Irene: The family at Re-bar has been welcoming and supportive to our event.  They really do support the LGBTQ community, and I echo Julia in our excitement about the improvements and changes that they are working on.
LAK: Any exciting plans or bookings you want to share with us?
Julia: July we have booked Sh▲rl6s6 M6†c▲lf (DJ Sharlese Metcalf from KEXP) – we are looking at a few out of towners and surprise guests, but for now we've been focusing on providing a venue for our rad local NW DJs. We are also excited to DJ with you, Kendall in August!
Irene: Pride Saturday, June 28th, we are excited to have our old friend Colby B (NYC) play with Trinitron, Kid Amiga, and the infamous Michael Manahan. We are also looking forward to DJ Sharlese Metcalf in July and DJ LA Kendall in August, and of course, there's more to come.
LAK: I'm also excited to come and play with you guys in August! You guys have partnered on Libertine – what do you each bring to the table that makes it work?
Julia: We both have pretty different perspectives, so somewhere in the middle hopefully we work out the best thing for this party! It's all about finding balance.
Irene: The balance is our love for women, music and art.
LAK: We share history that goes waaaayyyy baaaack into Seattle Nightlife History.  What have your top influences been locally?
Julia: Actually, Kendall you are a big influence on us. Also: Caroline Davenport, Alex Calderwood (RIP), Julie Herrera, Colby B, and anyone who never gives up and knows that each day is about expressing your art and sharing it with others.
Irene:Venue: Aro.Space . Events: HotBox,Stardust.  DJ's: Michael Manahan, Wesley Holmes, Four Color Zack, DJ Eva, DJ Sol, Julie Herrera, Miss Funk.  Music Industry Mentors: LA Kendall and Caroline Davenport.
LAK: Awww.  You guys make me blush!  We share a fondness for many of those names.  What do you plan to bring to Libertine that is different than what anyone else is offering across the nightlife spectrum in Seattle currently?
Julia: As I previously stated, we are hoping to provide a strong feminist space that is also a fun party. Our night has already inspired lots of conversations within the community that are leading to positive change and progress.
Irene: I agree with Julia.  ….and quite importantly, talent and music: old skool vs new skool.  Let's dance.  Let's build a better community.  It's about the talent that makes us feel we want to dance and be around beautiful beings and supportive people.  It doesn't matter what the night's gender focus is, it's about accepting that it is a feminist space with an intention to be around a safe environment.  We want a fun party with good music and to introduce artists with talented skills. This is why we are bringing in our old school friends – because we support each other through music not because of our sexual preference.  Thanks to our loyal and new friends and to those who are respectful and supportive to Libertine's intent – it's been a great crowd.
LAK: Dream booking for Libertine?
Julia: DJ Sextoy (rip) from Paris but since that isn't possible.. I'd have to get back to you on that one.
Irene: For now… Little Boots and Friends (Band).
LAK: You guys have a big Pride happening for Libertine going on at the end of the month – tell me what Pride seeking individuals can find in your Pride Edition.
Julia: We are the after party for the Dyke March and we will be starting early that night at 8pm so people can come down then and have a cocktail and start dancing right away. We are also offering a lower cover charge than most pride parties on Saturday, as we want everyone to be able to come. Because we are seeking to be an inclusive space, please contact us at: facebook.com/libertineseattle if you have any accessibility issues. In regard to the DJs, we have a stellar lineup. Colby B (NYC/Seattle) is coming straight over from seeing Cher and Cyndi Lauper to headline our event so we hope to be the after party destination for that as well. Also on the bill is the very talented (and supporter of the community), Kid Amiga, myself, the infamous DJ Trinitron, and special guest Michael Manahan for the afterhours.
**************************************************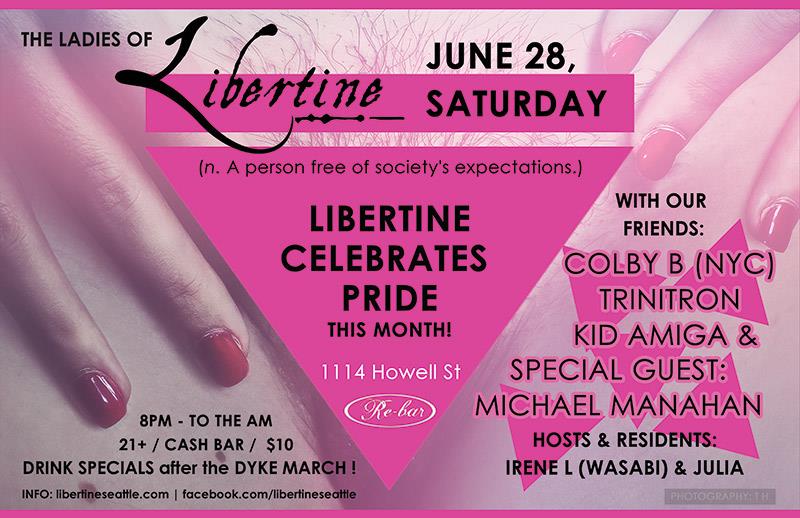 Sounds like a great party to me!  Catch all the fun that Libertine has to offer on Pride Weekend Saturday (6/28)!  For more information, or to follow the event, find them on Facebook @ facebook.com/libertineseattle.
Check out MORE from L.A. Kendall at Qulture Qreative and Kendall's DJ & Event!
(Visited 2 times, 1 visits today)