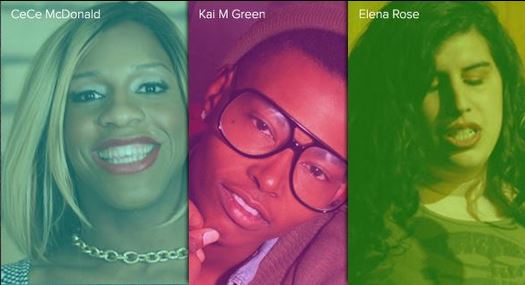 Last year's SEATTLE TRANS* PRIDE event was surprisingly the first ever and the result of hard work and dedication from the Gender Justice League. 
They're back this year with "Trans* Pride 2" happening once again in Cal Anderson Park from 6pm to 10pm with a march, rally and after party all on the agenda.
More poo:
The March 
Trans* Pride Seattle will start with a march. We will begin assembling for the march at 5:00pm in front of Seattle Central Community College at Broadway and Howell. At 6:00pm we will begin to march south on Broadway to Pike Street, where we will turn left and march east to 11th Avenue. From there we will turn left again and march north to Cal Anderson Park. We will enter the park at 11th and Olive Street. The March will end with a rally and celebration in Cal Anderson Park. 

The Rally
We are very excited to be presenting a spectacular selection of trans* speakers and musicians. Speakers include: leader, role model and activist, CeCe McDonald; scholar, poet and filmmaker, Kai M. Green; and the Filipina-Ashkenazic mixed-class trans dyke mestiza, writer, religion scholar, medic, and survivor, Elena Rose. Seattle's own "The Nasty Habits" will be rocking out the tunes. A few speakers from select organizations will also be taking the stage to discuss their work and the services and opportunities they offer. In addition, there will be an information and resource fair with a wide variety of community groups and organizations doing outreach. There'll also be food trucks and our beloved community out in full force!

And You
Last year's Trans* Pride Seattle was a smashing success, with participation by thousands of community members and allies. We received the support and involvement of a wide range of community organization as well as coverage by local, national and international media. Let's continue the tradition and make 2014's Trans* Pride Seattle an unforgettable gathering, celebration and rallying cry heard around the world. Please help us out by donating http://www.transprideseattle.org/donate/ and join us in volunteering http://www.transprideseattle.org/volunteer/ .
LICK! at Chop Suey will be the official After Party for Trans* Pride. There's a $5 cover, it's naturally 21+ w/ID and they'd prefer if you came scent/smoke free.
(Visited 1 times, 1 visits today)