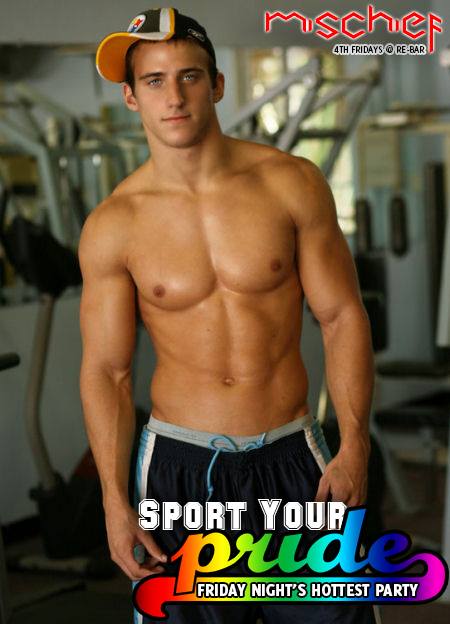 Here's your funkier options for Friday night, June 27 fun in Seattle for Pride Weekend.
1) Mama Tits and The Unicorn/Narwhal have Heklina and the Ladies of "T-SHACK" on hand for rowdy, dirty draggy fun SFO style! There are Seattle Queens performing too and it's only a $5 cover!!! CHEAP!! (So you'll have extra money to tip these 'hos!!!!)
ALL you need to know !
"T-Shack Seattle Pride edition" 
(SF's infamous party comes to Seattle!)
With Hostess Heklina!!! 

sponsored by: Reyka Vodka, Seattle PrideFest, Qulture Qreative, SeattleGayScene.com, Kendall's DJ & Event's and The Unicorn/Narwhal

San Francisco Cast: Heklina,
Holotta Tymes,
Turleen Turleen,
Sasha Stéphane
and
Ginger Snap

Seattle Cast: Sylvia O'Stayformore, 
Jackie Hell,
Amo A Nia,
Honey Bucket
and from Arizona, formerly of Seattle, Ursula Major!

Friday June 27th 8pm-2am
at The Unicorn/Narwhal
Doors at 8:30pm, show at 10pm
$5.00 cover CASH ONLY
21+ ONLY
100% of the cover to go to "Gay City Arts" and Gender Justice League
2) As discussed yesterday, the Men of Mischief will pre-funk it up at World of Beer before getting downer and dirtier at Re-bar with lotsa gogos and Rugby players on hand. It's woofy fun with a jocky beat and plenty of HEAT!
3) Apparently Citizen Nark has survived Gender Blender to turn it up at The Eagle tonight for a Pride version of his very popular DICKSLAP PARTY with special guest CAKES DA KILLA . It'll be your usual glittery, hairy hot madness with host Cucci Binaca running amuck and Jimi Jaxon on the deck with Nark.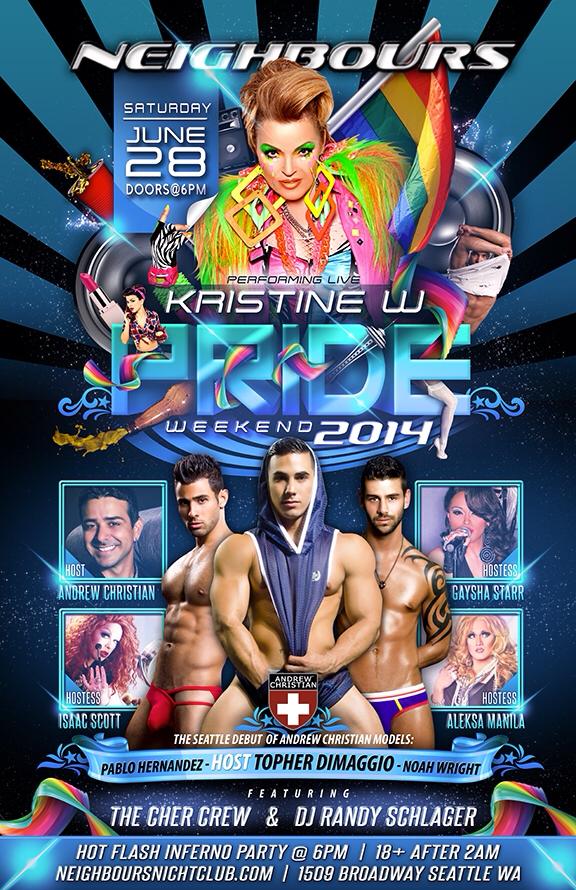 4) Poor Gaysha Starr. She moved to Aspen and she's frequently homesick for her beloved Seattle. She's naturally booked for a bevy of shows for this weekend and she was VERY anxiously trying to get to Seattle yesterday but airline/flight issues got her bumped back until this morning but she's FINALLY on the ground in Sea Town and already slappin' the paint on to host the  Andrew Christian Seattle Trophy Boy Search with the Zexy Underwear Mogul himself on hand to help judge.
Come meet the his boys, Topher DiMaggio, Pablo Hernandez, and Noah Wright.

Enjoy performances by Aleksa Manila, Isaac Scott, LaTrina Bidet, Penelope, and Miss Neighbours Anastasia Beaverhausen.

Afterwards Richard J Dalton and Trent Von keep the music going until 4 am.
AND, the under 21 crowd can enter after 2am!
Otherwise, all these events are for GROWN UPS! 21+ w/ID!
Tags: Andrew Christian, Dickslap, Mischief, Seattle Pride 2014, sgsapp, T-Shack