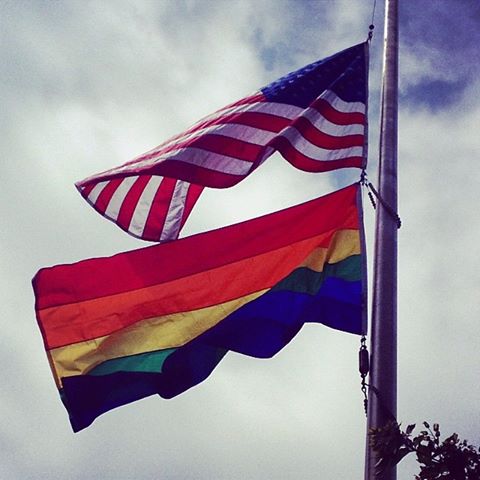 It's June 1 and it's GORGY outside and Mr. Strangeways got up at the crack of 10 am to head downtown to be a good faggy citizen at the official raising of the Gay Pride Flag over Seattle City Hall for Seattle Pride 2014. Our Lovely Gay Mayor and His Lovely Gay Husband were both on hand with the Lovely Gay Seattle LGBT Commission and Col (ret) Grethe Cammermeyer (Lovely and Lesbian) who all spoke about this joyously gay time of the year as a plane with a Geico banner flew overhead. And, since Geico is not a sponsor for Seattle Pride, the Mayor ordered that the plane be shot down.
I keed…I keed.
The wind even cooperated so we had lovely photo ops with flags gaily flapping in the gentle breeze.
We at Seattle Gay Scene know it's Pride Season because Our Lovely Official Seattle Pride Guide Page is ALIVE and already chock full of useful Pride information on EVERY aspect of the season, including all the poo on Seattle Pride's official events, and Seattle PrideFest events, and all the other for profit and non-profit events happening all over the city (and region) for the next 4 weeks. WITH much more to be added.
FASTEN YOUR SEAT BELTS, LADIES!!!!
IT GONNA BE A GAILY BUMPY AND FUN RIDE!!!!
It also behooves us to mention you should contact us to ADD any info about your Pride events. OR, to buy a lovely ad from us since THOUSANDS AND THOUSANDS OF PEOPLE visit the site and the special Pride Guide page. Find us at "info@seattlegayscene.com".
AND…
HAPPY PRIDE 2014!!!
(Visited 1 times, 1 visits today)