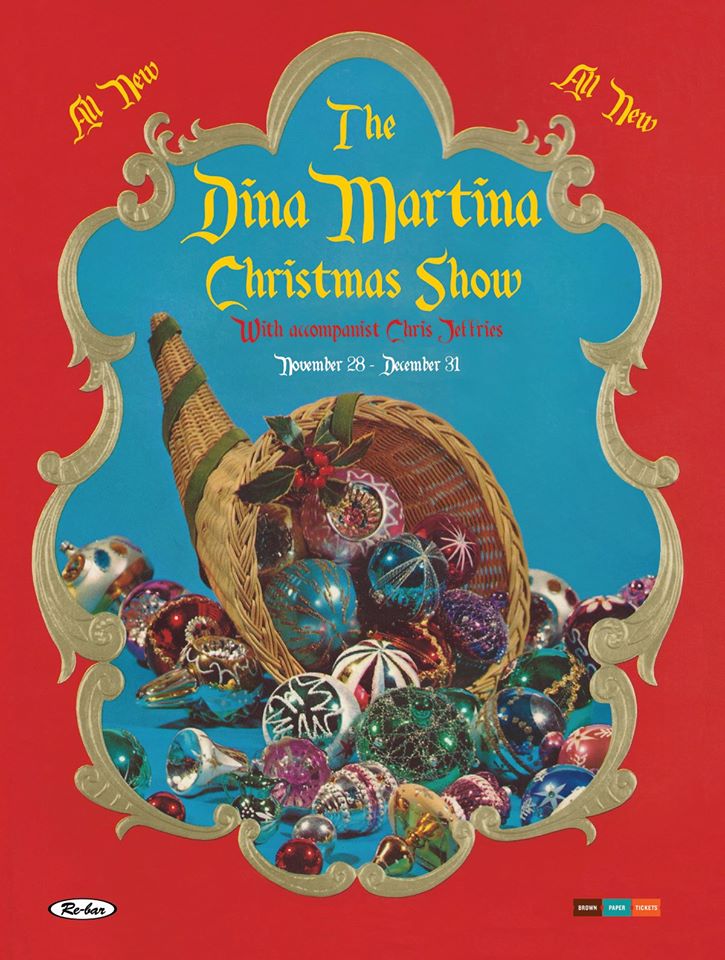 Halloween is lovely…for AMATEURS!
The cool kids know that Christmas is the Real Damn Deal (Duh…PRESENTS! NOG!! FANTASY FUDGE!!!) and that it's time to…
BUY YOUR EARLY BIRD DISCOUNTED TICKETS FOR THE ANNUAL TREASURE KNOWN AS "THE DINA MARTINA CHRISTMAS SHOW!!!!
Our hometown gurl is back at Re-bar Place for an all NEW Holiday Show with her favorite accompaniest, Mr. Chris Jeffries. Here's da poo:
Returning to Seattle's Re-bar November 28 – December 31 with an ALL-NEW holiday show  – "The Second Lady of Entertainment", the most surreal and hilarious chanteuse you'll ever find – DINA MARTINA!  Accompanied on the ivories by Stranger Genius Award winner MR. CHRIS JEFFRIES and armed with truly legendary songs, stories, costumes and audience gifts, Dina Martina will give you one of the most festive, invigorating and ingeniously funny evenings you've ever had!  See why she's a favorite of John Waters, Matt Stone, Margaret Cho, Jennifer Coolidge, Graham Norton and many, many more!   GET YOUR TICKETS NOW, BECAUSE PRETTY SOON THEY'LL BE GOIN' LIKE HOTCAKES!

ALSO – BLOODY MARY/MIMOSA WEEKEND MATINEES AT 2PM ON DECEMBER 13th, 14th, 20th, 21st, 27th & 28th!
You have TONIGHT TO BUY THE EARLY BIRD!
TOMORROW IT GOES UP…
TWO BUCKS!!!
GASP!!!
DO IT!!!!!