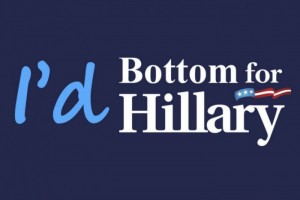 The entire gay scene of Seattle, which is typically comprised of 10 bottoms to 1 top, can now showcase their unwavering support for Hillary Clinton's presidential campaign thanks to the good samaritans at Bottom for Hillary. If you're a pig bottom, power bottom, or anything of the sort and have strong desires to vote for Mrs. Clinton into off, this shirt is perfect for you.
Before her announcement, the group described themselves as a "powerful group that encourages Hillary Clinton to run for President in 2016" and went on to explain that they would happily go face down, ass up for the Oval office hopeful:
We recognize the unbelievable force that is Hillary Clinton. So much so, that we admit that we would willingly bottom for her. It does not matter if you usually bottom, or if you usually top but can't resist the Clinton. She is a bad ass bitch. She is the head bitch in charge. She is the Ma'damnnnnn President. Ideally we would be bottoming for her as we were voting for her. We will display our love for Hillary by informing the world of our desire to bottom for her. Buy a shirt, have no shame, and vote for Hillary Clinton in 2016.
The shirts come in two options, a tank-top or a regular t-shirt at the low price of $18.75, with an added $6 for shipping and handling. In fact, I have already purchased the skank tank version, but will likely go back and get the t-shirt for other extracurricular activities.
If you're worried about whether or not these shirts would look legitimately fashionable, we found a picture of a strapping young sloppabottomous (see below) that is proudly telling the world that he would love nothing more than to bottom out for Hillary. He's even standing next to a cardboard cut-out of her.
And so, if you want a tongue-in-cheek outfit to show that you are #ReadyForHillary, look no further. Grab your credit or debit card, buy the shirt, and be on your merry way. Just remember, Seattle Gay Scene promotes safe sex: no glove, no love.
Tags: Elections 2016, Hillary Clinton