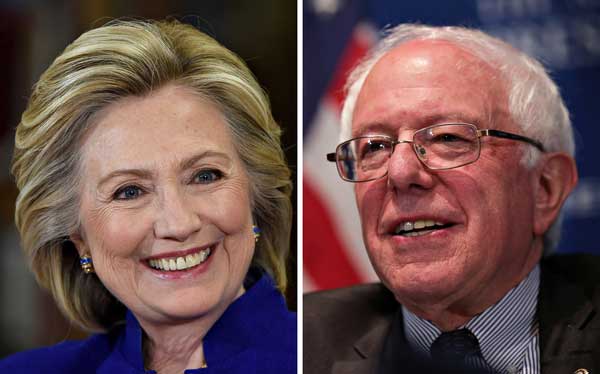 The Associated Press has called both the Alaska and Washington Democratic Caucuses for Senator Bernie Sanders of Vermont over former First Lady Hillary Clinton. Early reports via social and traditional media indicate Sanders has huge leads over Clinton in both states. Washington is the biggest prize of the day with 101 pledged delegates up for grabs and Alaska with 16.
Hawaii Democrats also meet today in a hybrid caucus/poll with 25 delegates up for grabs.
As of 3:30 PDT and with 22 of 72 Washington precincts reporting, Sanders has captured 76% of the votes to Clinton's 24%.
Campaigning in Madison, Wisconsin today, Bernie Sanders issued the following statement after the two races were called for him:
We'll be in touch with the results from Hawaii, but this is shaping up to be a tremendous day for our campaign. And with a big showdown in Wisconsin on the horizon, it's important that we keep the momentum going.

When we started this campaign no one thought we would win a single state, let alone 13 out of the first 31. No one thought we could compete financially with the most prolific fundraiser in Democratic Party history, especially by relying on small-dollar contributions from working Americans.

We keep proving the political establishment and corporate media wrong. And if we continue to stand together, we are going to win.
Wisconsin is the next caucus/primary on the Democratic side as that state's Democrats meet April 5th in an open primary.
Today's major wins for Sanders were much needed to make up the approximate 300 open delegate difference between the leading candidate, Hillary Clinton and Mr. Sanders. Sanders will need to have strong showings in Wisconsin and particularly in the remaining April primaries and caucuses, especially New York on April 19th and the next big "Super Tuesday" on April 26th as Connecticut, Rhode Island, Maryland, Delaware and Pennsylvania head to the polls.
Tags: Alaska Caucus, Bernie Sanders, Democratic Party, Democratic Presidential Race, Hawaii Caucus, Hillary Clinton, Washington State Caucus