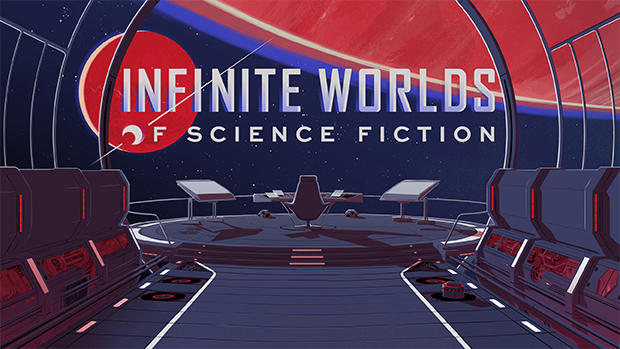 "Space… the final frontier…" [Insert Star Trek theme song here.] And indeed it is. But as it turns out, most sci-fi has so far revolved around planets in our solar system, or Earth at different time periods. That's because our limited brains are only capable of imagining so much compared to what we know of this corner of space. We can sure as hell try, though!
So the EMP has a new awesome exhibit called Infinite Worlds. It's so damn cool! You can see the original Terminator leather jacket, Leeloo's iconic outfit from The Fifth Element, art from a prolific fantasy artist, and more props than you can handle. Curator Brooks Peck is keenly interested in the creation process and the nifty gritty aspects of story ideas coming to fruition. That's why you'll see things like director notes on the book Blade Runner was based on, or invoices with crossouts. He loves the details, and it shows.
The story they've envisioned as you walk into the exhibit is that you have entered a spaceship docked above Earth, and it has traveled all over space. On its journey it has encountered any number of other planets and species, and now you can learn about them and what they mean to us. Each representative of every species has a planet from whence it came, and you can choose to decode an alien language, go on a scavenger hunt, or simply wander around admiring the weapons, other spaceships to scale, or the finer points of every costume and prop in minute scrutiny. The exhibit is for everyone, from the anti-sci-fi to the uber geeks.
I had the pleasure to attend the Zero Gravity opening night with special guest George Takei. On a stage above the DeLorean, Peck asked Takei about his life and what it has meant to live according to the Star Trek ideals of peace, exploration, and equality. Were those ideals part of why he acted on Trek, or had he been doing it since beforehand? Takei went on to say that he'd watched and lived with his family as they were uprooted from their lives in California to live in a Japanese internment camp in Kansas. He had seen firsthand the US government doing the very thing they were fighting against in Germany, just because they happened to look like the people who bombed Pearl Harbor. So having grown up with adversity from a young age, it only strengthened his resolve to be a part of a show that aimed for something better than ourselves. Brooks asked why Takei chooses to use humor and art to make his points. Takei replied, "Humor and art are probably the most potent ways of communicating with people, and to humanize the issue." He went on to describe one of his hugely successful campaigns in protest of an official who wanted to criminalize school children from using the word "gay" and how it led to "It's OK to be Takei." Sidenote: join the boycott of doing business in Indiana. We can rest assured that as long as Uncle George is breathing, he will fight against adversity in any form it takes, and that's what being in the sci-fi world means to him.
But I digress. EMP knows how to throw a party! Space-themed drinks complemented a night of dancing to Enterprise uniform-clad rockin' bands and everyone looked like they had a blast as they danced! Many of the guests still had their cosplays on from Emerald City Comic Con, and thoroughly enjoyed hearing from our Gay Nerd Leader. And I'm happy to report that my trivia team scored sixth place, which is by far the best I've ever done with any trivia night!
Command chairs and DeLoreans and TARDISes, oh my! Go check out the exhibit—It's worlds of fun! (See what I did there?) 
(Visited 1 times, 1 visits today)