Wednesday is the new Friday.
At least during Pride Week. There are several big events happening tonight, Wednesday, June 24 to really rev up your Pride Week festivities.
Three Dollar Bill and PrideFest teamed up for their Pride Film Festival. While we wait for the Supreme Court to announce their decision on Marriage Equality (probably happening on Friday, June 26) you can check out two amazing films about the fight to earn that equality at Northwest Film Forum. Here's the info:
Wednesday 6/24 at Northwest Film Forum
Marriage Equality Documentary Night 6:30 $3
Double feature – Edie & Thea, Case Against 8
TICKETS:
http://www.strangertickets.com/events/25008530/pfff-marriage-documentary-night-edie-amp-thea-the-case-against-8
If you like stars, go to Purr for their Pride Kick Off event with the lovely RPDR Season 2 runner up, RAVEN on hand to host and perform at a NO COVER event!
But, you're SUPPOSED to charge an arm and a leg for Pride events?!?!!? Are they crazy?!?!!?
Like, our next event Seattle Weekly's Disco Man of the Year, Mr. Kevin "Nark" Kauer's annual GENDER BLENDER PARTY which had to change venues/days/talent because apparently LOGO TV has a vendetta against him….the party now stars RPDR Season 7 winner VIOLET CHACHKI with her co-star MISS FAME and from Season 6, the adorable ADORE DELANO and hometown gal/hostess BENDELACREME! Plus, lots of local hookahs working for drink tickets!
The DJs are Rob Winter & Shelrawka and the whole thing benefits Gay City Health Project.
It's $35 for GA and $70 for VIP which gets you upstairs to hobnob with the stars.
Go here for tickets or at the Door.
Meanwhile, down at Maxim's in Hillman City (5608 Rainier Avenue South) there's a fun event for EVERYONE! (over 21) "NEWLYWED GAME WITH PRIDE"!!!!
The skinny:
Hello everyone! We are bringing the television showcase The Newlywed Game right onto the red carpet stage at Maxim's, and we're doing it pride style with rainbows and everything. Show some pride in your rainbow union

If you are of the LGBTQ persuasion and have married within the last 12 months, come on down and join us for an evening of fun. Don't worry if you don't qualify. Come and watch all the excitement as our host, Mixx, draws on your knowledge about you and your partner.

Although this is an LGBTQ focused event, all couples are welcomed, but don't be surprised if you get asked some peculiar questions…. 😀

We have some awesome prizes, and entry for the game is only $20.00 per couple. Absolutely NO ENTRY FEE!!!

We have great food and drink specials. This is a 21 and up event. You must show proof of marriage/union…

Happy hour starts at 5 pm, so come early for "Well Wednesday." Three well drinks for $10.00, but only if you are there before 7 pm.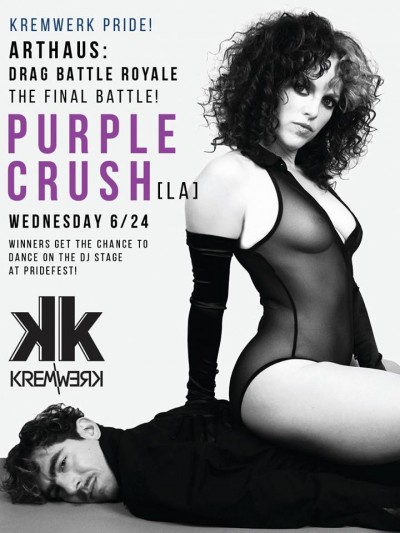 Meanwhile, down at KREMWERK, which was just voted the Best Gay Club in Seattle by DListed Magazine, there's a very special guest in town for their ARTHAUS BATTLE ROYALE neverending drag competition which ends tonight. The divine LA based duo PURPLE CRUSH who have Seattle roots and performed at PrideFest last year, return to town for a special performance at the finale.
Doors open at 9P – $5 cover before 10P and $15 cover after 10P.

ARTHAUS BATTLE ROYALE Finals have arrived!

The winner of this Championship Round wins a spot in the Seattle Pride 2015 Parade with Kremwerk and at the Qulture Qreative stage at the Seattle PrideFest on June 28, 2015!!

YOU VOTED! And it's down to two!
<<Haus of Tree >> VS <<Waffle Haus>>

Featuring guest performances by Purple Crush,Ursula Major, Eva Androgyny and DieAna Dae!! And performances by your hostesses Dita Sur Bête and Cherry Sur Bête !!

With DJ Ozma Otacava

Prepare for a showdown unlike anything you've seen before. We already have seen the magic of these two Hauses, and for this BATTLE ROYALE they are leaving it all on the stage!
(Visited 1 times, 1 visits today)