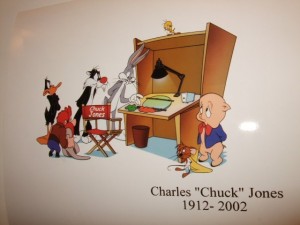 So I'm in a car2go on a Wednesday night, listening to the Nocturnal Transmission on C89.5. To the Game of Thrones theme song remix by Armin Van Buren, I'm on Aurora Ave passing by a billboard with Elmer Fudd on it, explaining that there's a Chuck Jones exhibit at EMP.
Now, EMP has only gotten cooler and cooler since the beginning of this year. From the fantasy exhibit to the Star Wars costumes to horror films to video gaming to "Infinite Worlds," the museum/sci-fi museum has only revved up its game for all to enjoy. And soon, it'll be celebrating its 15th anniversary!
Unlike most Millennials, but like a lot of the "tweener" generation, I grew up with Looney Tunes. It was only on reruns in between the newer '80s cartoons, Pink Panther, Hanna Barbara stuff, and the beginnings of anime, but it was still there, because the Baby Boomers had a soft spot in their hearts for it. And rightly so.
Chuck Jones was an icon. He provided the quintessential designs for Bugs Bunny, Daffy Duck, Wile E. Coyote, Roadrunner, Pepe Le Pew, Tom & Jerry, and so on.
For those who grew up without the benefit of Merry Melodies or Looney Tunes, you should know that those wacky, slapstick 'toons are what MADE Warner Bros. as a studio contender. And without that start, we would never have had Tiny Toons, Animaniacs, or the seminal Batman: The Animated Series (which was the reason we have all of the superhero animated shows and movies now).
Jones was fucking important to the world of cartoons. He set the standard for what animators could do in a show (along with Friz Freleng and Mel Blanc), and let us remember that it's ok to be silly. He made generations recall why they enjoyed vaudeville, and helped usher in a new era of comedy. With his help, we got the early days of what we call now, "breaking the fourth wall." (Duck Amuck, 1953). Looney Tunes did stuff back in the day that would never fly now, because PC.
Here's what EMP has to say, with little to no fanfare:
In a career spanning seven decades, Jones made more than 300 animated films and won three Academy Awards as well an honorary Oscar for Lifetime Achievement.
What's Up, Doc? invites you to rediscover America's most cherished cinematic treasures with 23 of Chuck Jones' animated films and 136 original sketches and drawings, storyboards, production backgrounds, animation cels, and photographs demonstrating how Jones and his collaborators worked together to create cinematic magic.
The films, shown as large wall projections and on monitors throughout the exhibition, include such classic Warner Bros. cartoons as What's Opera, Doc? and One Froggy Evening, and the Academy Award®-winning short film The Dot and the Line: A Romance in Lower Mathematics, which expanded the boundaries of the medium with its experimental techniques.
I strongly encourage you to check out this exhibit. For the elder among you, it'll bring back memories of a childhood forgotten. For your children, it'll rekindle a romance with cartoons they didn't think possible anymore. And for people my age, you'll simply enjoy. Maybe get a little verklempt. 
Now for your viewing pleasure:
Editor's Note: As far as I'm concerned, Chuck Jones and the other geniuses of "Termite Terrace," the ratty old building on the Warner Brother's lot that housed the animation department during the the Golden Age of Hollywood, are Gods in the Pantheon of Animation Arts. This is a must see exhibit for all fans of Bugs and Company.
Tags: Animation, Cartoons, Chuck Jones, EMP, Geek, Looney Tunes, nerd, Sci-Fi, SciFi Museum, Warner Brothers