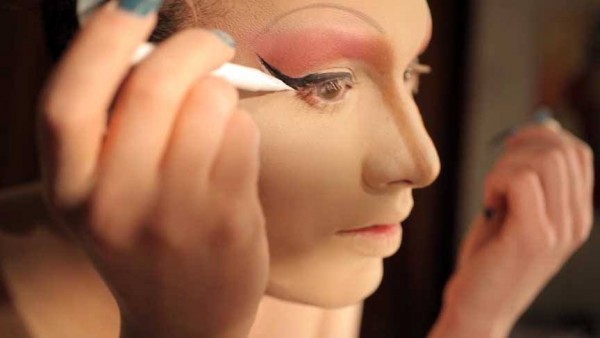 Anxious fans of beloved drag entertainer/singer/actor/performer JINKX MONSOON aka Jerick Hoffer are finally going to have options to see the documentary about the Seattle based performer's life as a drag icon and worldwide entertainment legend. Drag Becomes Him, the feature length version of an earlier webseries of the same name made by director Alex Berry, premiered at Seattle's famed Cinerama theater back in April and since then, has played a handful of engagements around the world (Athens, Greece; Toronto, Canada; Durban, South Africa to name a few).
On Friday, July 10th, qFLIX, the Philadelphia LGBTQ film festival will screen at the Caplan Studio Theatre at 9:30pm.
Our friends in Buenos Aires, Argentina can stop crying because Drag Becomes Him has TWO screenings at Asterisco International LGBTIQ Film Festival on July 15th and 18th! Grab tickets HERE!
A bit closer to home base Seattle, the film will have its Los Angeles debut at Outfest on Friday, July 17, 2015 at 7:15pm at the REDCAT which is part of the Walt Disney Concert Hall, 631 W. 2nd St., Downtown Los Angeles. Director Alex Berry and producers are scheduled to attend; alas Ms Monsoon is now in Provincetown for the summer and not available to attend this screening! BUT, all you devoted L.A. fans should turn up; after all this is the home base for World of Wonder who makes RPDR….who KNOWS who might turn up at this screening! Grab tickets for it, HERE!!!!!
As for the rest of y'all, you can see the film ONLINE for TWO DAYS only on July 18 and 19, 2015! For a very nominal fee, you can rent the film and check it out for yourselves! (Don't worry…we're not done distributing the movie. This is just a chance for uber fans to see it for themselves!!)
Here's more poo on this rental window. Stay tuned to the FB page for all the deets!
Are you ready for Drag Becomes Him? We've got a chance for everyone to see it. While the film continues to tour the world in various film festivals, we wanted to create a special one-time opportunity to see this documentary before the film gets released later this year. On July 18 and 19, 2015 we'll offer Drag Becomes Him for a limited rental across the world. Get ready for your first chance to see this film online.

Follow the Drag Becomes Him Facebook page for more details. The viewing link will be posted at 12:01 AM July 18 PST and will be available for a 48 hour period. The film rental will be $12 USD, and will be available all around the world.

Drag Becomes Him provides an intimate glimpse inside the life of internationally acclaimed drag performer Jinkx Monsoon. This raw and affectionate film follows the passionate pursuits that transformed a working class boy in a struggling family to an illustrious performer on a global stage.

Influenced by a grandmother with charm school polish, Jerick Hoffer learned to fuse the sophistication of a southern belle with the crass behavior of a working girl. Jinkx Monsoon has what RuPaul describes as "a stage left, off center kind of quality."

Drag Becomes Him follows Jinkx's trajectory from a small stage in Portland, Oregon through a growing career in Seattle to the relinquishing of the crown one year after winning season five of LOGO TV's hit drag queen competition show, RuPaul's Drag Race.

Expanded from the acclaimed five-part web series of the same name, this cherished portrayal of Jinkx Monsoon peels back the layers on one of the brightest stars on the drag circuit.

Continue to watch this Facebook event for the rental link.

Follow us at:
http://www.dragbecomeshim.com/
http://www.facebook.com/dragbecomeshim
Note: It behooves me to disclose that I am a producer on this film!!!
-Michael Strangeways
(Visited 1 times, 1 visits today)