Two fierce and female-written plays open in September, playing in repertory and mounted by Forward Flux Productions. Forward Flux may not be known to many, yet, but for the last year and a half, theater impresario Wesley Frugè has been conducting "salons" in various shops, bars and other unusual venues, doing readings of plays he was interested in.
Wesley and his husband, song-and-dance-man J Reese, moved out here from New York City almost two years ago. Wesley had established himself in NYC with some different, edgy theater concepts and he's brought them here as well.
Forward Flux Productions is described as, "a live arts production company that presents innovative projects to connect people with art in unexpected ways. The company challenges the boundaries of tradition by re-imagining the audience experience. Forward Flux is committed to presenting work about the right now, and striking a meaningful dialogue that stirs a lasting impression."
Now, they are ready to bring two of those plays to full production, presenting them at Gay City Healthy Project's Calamus Auditorium (behind Kaladi Brothers Coffee on Pike). I was fortunate enough to be at both salon readings where each of these plays, Still Life and Green Whales, were presented and I can attest to the fact that both of these plays are extremely well written and each is provocative in its own way!
Wesley reports that, "From our salon series last year of six readings, these two rose to the top as our favorites. I'm attracted to provocative edgy stories; how we're framing conversations. The whole idea of living in the age of terrorism and suffer unexpected losses is framed in such an interesting way (in Still Life), and how we cope in this world where someone can be taken from you in a second in a random act of violence. And finding humor in it.
"And the same for Green Whales which is so darkly funny in such an uncomfortable way. It is so conventional in the end – people looking for love. And the piece says there's someone out there for everyone. It's hopeful."
He feels the time is right to produce full stagings because they've built (he says "curated") an audience over the last months with the reading series. Now, with two committed, talented casts, he's ready to show the rest of his aesthetic to Seattle.
In a conversation with playwright Barbara Blumenthal-Ehrlich (Still Life), discussing the delight that her play was honorably-mentioned in the 2015 Kilroy list of plays by women, Barbara wondered whether men and women write differently from one another? Do they write different "kinds" of plays?
Wesley has a ready and reasonable answer (though I think it's interesting to think about for oneself). "Female characters written by women are (often) so much more interesting. Lydia in Still Life such a dynamic role for an actor, but we don't see a lot of strong female characters in their 50s and there are so many talented female actors that are being underutilized."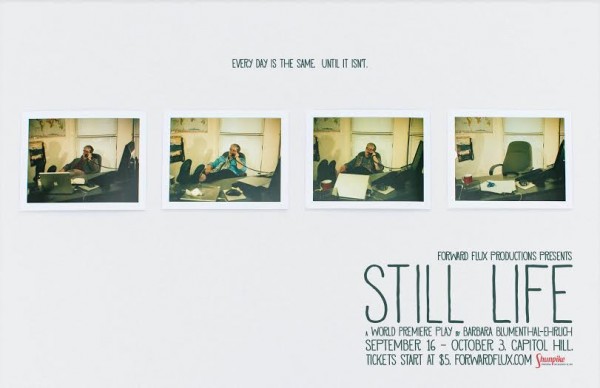 Still Life is about a woman waiting for her adult daughter to come home, after a terrorist attack. Barbara says that she began thinking about a play like that, "after the London bombings in 2005. There were the bombings in the London Tube. An interview on, I think, NPR after the bombing was a father whose daughter had not returned from the train that day and he was coming up with excuses of why she could be late. Everyone listening knew she was dead. And I started crying about this father looking for some other answer. I had a cathartic need to create a play to deal with the grief. I totally viscerally understood why he needed to create all these excuses."
Besides a prickly relationship with Lydia's daughter's significant other, there is a photographer who has been taking Lydia's picture every day. Barbara says, "I'd been thinking about photographs a lot and how they have an evolutionary life of their own, even though they are still and don't change. They evoke, depending on where you're at, different things. Like if you look at a wedding picture it looks different coming back from a honeymoon than after a divorce. A photograph has a life.
"Somehow I got that fascination intertwined with the inspiration from the radio interview. Merging those two concepts, the photographs she takes become part of what we lose in a terrorist age – the loss of knowing that our day to day routines will continue. She takes pictures every day and then Lydia is gone (grieving her daughter's disappearance)."
Barbara was able to come to Seattle in June to workshop the play a bit more before the full production. This will be its world premiere! "I'm so excited and love Seattle. For a theater of this size to fly a playwright in to workshop a play is outstanding.
"The actors just threw themselves in. They were into the performance and also a creative partnership. They're talented and very smart. Also, all three of them can say the same line 10 different ways and evoke the same thing. They're incredibly flexible. I hope I can get out to see it."
Lia Romeo (she pronounces it roh-May-oh) says about Green Whales, "It's a weird play. I'm very drawn to writing about romance generally, and it came from that place: wanting to take the conventions of romantic comedy and play with them. It's such a classic genre. So many movies and plays. We all know how that genre works, and when the audience comes in with specific expectations, it's just fun to play around with them a little bit."
Green Whales introduces a woman who has a condition that makes her look pre-pubescent. She's had a terrible time with dating and her sister decides to help her out by finding a possible pedophile who might be attracted to her! EW!
Lia reports that she heard a story that she thought ended up on Law and Order – a true story about a similar couple where the man kept getting arrested when he was out with the woman because she looked so young. She says, "The second I heard the story, I thought, 'This is the kind of story I can write.' I came across Turner Syndrome, and that's the condition my main character has. It manifests differently in different people.
"I don't think it's a realistic exploration about what it's like to have Turner Syndrome, but it's one possible situation and what could come of that. There's definitely reality to it. It's not an absurd play."
The alcoholic sister also has a troubled relationship and Lia likes the inclusion. She says, "The sister and her boyfriend are the supposedly more normal couple, and I wanted to say something more generally about love and relationships. I wanted to show a relationship that may look like a good relationship but is not necessarily good, and what may look like a bad one is not necessarily bad."
The play has been produced a couple of other times in Kansas City, Unicorn Theatre, and in San Jose, Renegade Theatre Experiment. Lia says, "They've been received very well, gotten strong reviews. They are both companies that have done other plays of mine as well, and I saw them and was very happy with them."
She has not yet been to Seattle, but is looking forward to the opportunity to visit the city. "I'll come out to see Green Whales. My husband and I will be making a little vacation of it. My impressions are that Forward Flux is a great company. I've never been paid for a reading before, or not as much. I've never received postcards with audience reactions (something Wesley innovated at the salons). That's not what a company would typically do for a reading. So, I'm excited."
---
Green Whales and Still Life run in repertory from September 16 to October 3  at the Calamus Auditorium at Gay City on Capitol Hill.
Tickets $5 – $150
Tickets and schedule: www.forwardflux.com
Tags: Barbara Blumenthal-Ehrlich, Forward Flux Productions, Green Whales, Lia Romeo, New Plays, Seattle Theater, Still Life, Wesley Frugè