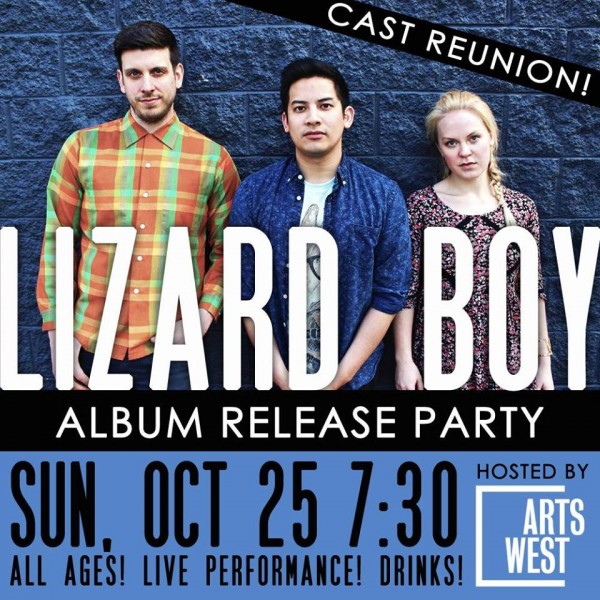 Their new musical, LIZARD BOY was a sold out hit last spring at Seattle Rep and now the cast of that charming new work have recorded an album of all the songs! The entire cast, star and creator Justin Huertas with co-stars Kirsten deLohr Helland and William A. Williams will sing selections from the album TONIGHT, Sunday October 25th at 8pm at ArtsWest Theater & Gallery in West Seattle. Director Brandon Ivie will also be on hand and the cast will perform two sets during the evening.
Here's all the poo!
Come join the Lizards and celebrate the release of the world premiere cast recording of LIZARD BOY!

And did we mention it's FREE!?!?!? Just show up and you'll get in! (limited number of concert seats)

LIZARD BOY ALBUM RELEASE PARTY
Sun, October 25
Doors open at 7:30pm
Live concert at 8pm
ArtsWest Playhouse
4711 California Ave SW in West Seattle

*ALL AGES!
*NO COVER CHARGE
*FULLY STOCKED CASH BAR
*CAST REUNION
*LIVE PERFORMANCE
*DOOR PRIZES
*PHOTO BOOTH
*BUY THE ALBUM!
*SO MANY LIZARDS
The show, cast and director are all nominated for Gregory Awards and we're guessing we'll see all of them on Monday night, October 26 at McCaw Hall when the 2014/15 Gregory Awards for excellence in Seattle theater are given out. You need tickets for that show…go HERE to hopefully see the "Lizards" win a passel of Gregory Awards.
(Visited 1 times, 1 visits today)