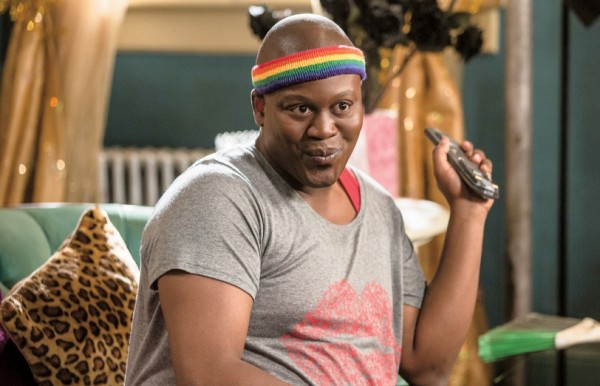 The days may not be as Merry and Bright after this Holiday season's Seattle Men's Chorus Holiday concert "Home For The Holidays" as it will be the last one with SMC's Founding Artistic Director Dennis Coleman leading the highly regarded, internationally acclaimed chorus, what with Coleman retiring after the season ending Pride Month festivities next June. But for the next several weeks the Benaroya Hall will delight in the gay apparel, tight choral work, and mixture of much beloved holiday classics, rowdy special comic material provided by Associate Artistic Director Eric Lane Barnes and his auxiliary comic chorale Captain Smartypants, audience singalongs, and reflective moments, all hallmarks of the Coleman era at SMC.
The first weekend of the holiday concerts has always been headed by a fabulous Diva, likes of whom have included Heart's Ann Wilson, Broadway's Original Dreamgirl, Tony winner Jennifer Holliday, TV's Smash star Megan Hilty, Folk legend Judy Collins, and from Broadway's "CATS", the seminal Grizzabella, Betty Buckley, This year, Tituss Burgess, best known as the co-star and Emmy nominee for Supporting Actor in a Comedy (Netflix's The Unbreakable Kimmy Schmidt) will be the Divo Du Jour. Also seen on Broadway as Sebastian the Crab in the short-lived run of the stage version of "The Little Mermaid" and rockin' the boat as Nicely-Nicely in the most recent revival of "Guys and Dolls", Burgess' breakout role as wannabe Broadway musical legend Titus Andromedon on The Unbreakable Kimmy Schmidt came after producer Tina Faye worked with him in the recurring role of D'Fwan in 4 episodes of her hit series 30 Rock.
Mr. Burgess had very little time to spare apparently for Seattle Gay Scene, as he missed our original appointment and called in 20 minutes early for the reschedule the next day, offering a few remarks for our readers and the SMC audience in 5 minutes, before dashing back to tape an episode for the upcoming season of "Kimmy Schmidt".
David-Edward Hughes: I have enjoyed your work on "Kimmy Schmidt", one of the funniest comedies currently on the air.You are most entertaining.
Tituss Burgess: Thank you. It's my pleasure.
DEH: How did you come to book this appearance with the SMC?
TB: I'd love to tell you it was a glamorous story, but someone called my manager, and then she called me!
DEH: How boring.
TB: I know!!!
DEH: What can we expect as you show off your Broadway honed-vocal chops?
TB: Mostly holiday music. Glorious arrangements that we all have put together to share with the community.
DEH: How is your filming going on the series?
TB: We are in the thick of it. I can't wait for you guys to see Season 2. It is hilarious! Tina Fey and Robert Carlock have done, a brilliant, brilliant job.
DEH: What kind of schedule do you film the 13 episodes on?
TB: Over six months, and each episode take 6 days
DEH: Not super rushed then?
TB: No, no. Of course not.
DEH: Can we expect a return to Broadway then?
TB: We're in talks for a little something. In a season or two, but it is for sure. I can't say what show it is, but it will be a revival.
DEH: Have you played Seattle before?
TB: I haven't!
DEH: Well the wait till you see Benaroya Hall. Glorious space.
TB: I bet and I can't wait to eat that seafood. Oh I'm so, so excited. Listen I am being called on set. They are summoning me, and I can't even delay it. Thank you!
DEH: Thank you.
And you dear readership will get a bit more of Tituss than I if you catch his performance 8pm Saturday 11/28 or Sunday 11/29 at Benaroya Hall and judge for yourselves if The Unbreakable Kimmy Schmidt star proves to be "The Unsinkable Tituss B. (A VERY few tickets remain; tickets here!)
"Home For The Holidays" runs from Nov 28– Dec 21at Benaroya Hall, 200 University St, in Downtown Seattle. For tickets and more information on the non-Benraoya performances go to www.flyinghouse.org.
(Visited 2 times, 1 visits today)