And, party on down with D-List Gaylebrities!
I keed, I keed.
Sort of.
It's Evolve Vegas NYE  at the "new" Tropicana Hotel in the sinful helltown known as Las Vegas. According to he hyperbolic press release, it's the Strip's (apparently) only gay New Year's Eve Party! Last year's Evolve party snagged 1,100 guests…since tickets START at a hundred bucks, they grossed over a $100k!
No wonder they hire no names…MORE PROFIT!
Again, some ribbing but for a hundred bucks I do expect a bit higher in the gay talent/drag food chain than Scott "I had to look him up to find out who the fuck he is" Nevins and the cute, but hardly a Drag Superstar (she wasn't Top 3 in her season of "RPDR") Trixie Mattel. For that much money, they'd better hire a WINNUH!!! Of course, if they hired this year's winner, Violet Knick Knack, what the fuck would she DO? Stand there and look cute? Zzzzzzzzzzzzzzz.
(While on the subject of Vegas and RPDR stars, why hasn't some casino snatched up Bianca Del Rio to headline a smaller cabaret space in one of the resorts? She's stupidly talented and would bring in duh business…ARE YOU LISTENING LAS VEGAS????)
I just found a photo of the Havana Nightclub at The Tropicana. It's a delicious looking old school nightclub with big half moon booths! We wish Seattle had a club like this…sigh.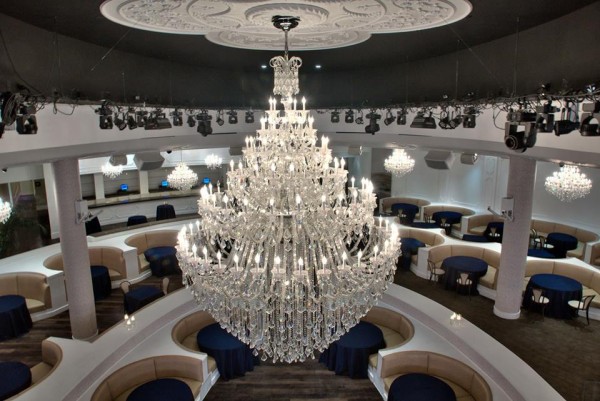 More poo below…and, it does actually sound like a zexy party. Though, to be honest, I'm still waiting for someone to throw a "Poseidon Adventure" themed NYE event where the nightclub turns upside down and Maureen McGovern and/or Fergie warbles a theme song or three.
The countdown to New Year's Eve is on, and as 300,000 revelers close down Las Vegas Boulevard, the Strip's only gay New Year's party – Evolve Vegas NYE – will be taking place at The NEW Tropicana Hotel in its stylish Havana Nightclub with outdoor views of the midnight fireworks.

Ringing in 2016 at Evolve Vegas this year will be a gaggle of gay-friendly notables led by the evening's hostess, Edie of Cirque Du Soleil's Zumanity. Other entertainers planning to make the night extra special include: headlining performer and Ru Paul's Drag Race phenomenon Trixie Mattel; Bravo TV personality Scott Nevins; multi-talented recording artist Z LaLa, sexy aerialist duo LV Sky Boys; and sounds by DJ Amphion.

Last year's event hosted nearly 1,100 guests and was voted among the top 6 Gay New Year's Eve blowouts by OutTraveler magazine. Attendees came from 6 continents, making this party one of the most diverse and sought after New Year's Eve celebrations in Las Vegas.

Tickets are available now at $99 for general admission and $149 for VIP admission.

Guests with VIP tickets will enjoy a special cocktail reception with a two-hour open bar, exclusive performances, meet and greets with the performers and celebrity guests, and premier seating and bar access. All Evolve Vegas NYE partiers will have a superior view of the Strip's midnight fireworks show thanks to Havana Nightclub's spacious indoor/outdoor design.

Pre-purchasing tickets is highly recommended, as Evolve Vegas NYE is expected to sell out.
Tags: EvolveVegas, Gay Vegas, Las Vegas, Las Vegas Gay Scene, NYE Events, The Las Vegas Gay Visitors Bureau, Trixie Mattel, Tropicana Hotel