I know you've been LONGING to sit on Seattle artist/hot daddy/provocateur John Cristicello's juicy lap ever since he became a BIG deal courtesy of The Stranger and their year long love affair with the button pushing artist and Gaylebrity.
(After SGS interviewed him…ahem.)
You CAN explore the moistly wonders of John's lap TONIGHT, Friday, December 11, 2015 at Northwest Film Forum, 1515 12th Avenue, for their annual FREE community holiday party which is happening from 7pm to ….WHO KNOWS WHEN!!!!??!!!!! Hot Daddy John will be this year's not so secret Santa….sit on his lap and tell him how NAUGHTY you've been!!!
NWFF is teaming up with our pals at Three Dollar Bill Cinema who will also be putting on this month's CINEOKE in the theater. So, there's SOMETHING for EVERYone….karaoke, booze, nibbles and John Cristicello's crotch!!!
More skinny:
Free community party! All ages!
Friday, Dec 11 at 07:00PM
Our annual holiday bash is back, this year with co-host Three Dollar Bill Cinema! 

Partake of warm and toasty delights:

Bring a dish to share in ye olde community potluck
Belt out your favorite show stoppers with Cineoke hosted by Three Dollar Bill Cinema in our big theater. It's like Karaoke — only better. You're the star of your favorite movie musical. Pick any scene to sing along to, while the film and lyrics are projected onto the screen. There are hundreds of songs to choose from, including Holiday favorites both animated (likeRudolph the Red Nosed Reindeer) and classic (such as

 

White Christmas). Or you can bring in your own special request (on DVD).

Get down to the musical stylings of filmmaker/DJ Brian Perkins, spinning from our lobby staircase with his stash of rare movie soundtracks on vinyl.

Take some selfies on Santa's lap (or defer to a skilled photographer). This year's Santa is the one and only hillebrity and video artist

 

John Criscitello!
 Try your luck at back-alley dreidel.

Come through — you may just meet your next editor/lead actor/love interest.

Party starts at 7:00 p.m. and Cineoke will begin at 7:30 p.m.

Plan ahead: 
• Northwest Film Forum is located at 12th Ave and Pike St, street parking is a hassle, especially on a Friday night.
• The event is free, but there will be a cash bar hosted by NWFF.

Download the current Cineoke song book below.Want to sing something not in the book? Bring your own DVD and we'll play it for you!

https://www.facebook.com/download/1598918693664183/Cineoke_Book_2015.pdf
Come get your ho, ho, ho ON, ya big HO!!!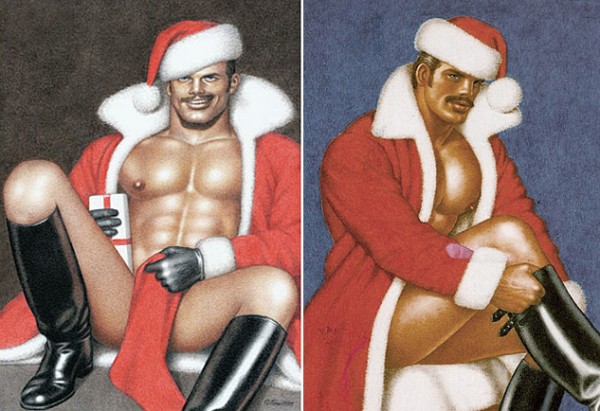 Tags: Cineoke, Holiday Parties, John Cristicello, Northwest Film Forum, Santa, Santa's Lap