Jared Michael Brown, one of Seattle's finest younger actors just opened to acclaim in the Centerstage production Ring of Fire, opposite Cayman Ilika, his friend, and another terrific younger star in our theatrical firmament. From his stage adventures to real life journeys, Jared is a fascinating, well-spoken, dryly humorous, and altogether delightful person to talk to, and get better acquainted with, as I found when we spoke a week or so back.
About the Show and his Leading Lady: Ring of Fire is structured as concert with a through-narrative that loosely follows Johnny Cash's life and career. It includes most of his hits: "Ring of Fire," "Walk the Line," "I Still Miss Someone," "Daddy Sang Bass," "Five Feet High and Rising," "Cocaine Blues," "Folsom Prison Blues." The show is structured so that Cayman Ilika and I sing the majority of the material, with members of our amazing band taking the lead every once and a while as well. Our band doubles as the other actors in the show and we've been lucky enough to have Jack Dearth, Sean Tomerlin, Zack Summers, and Tom Stewart join us in this journey. I have the great fortune of playing opposite the lovely and talented Cayman Ilika. We've been in a couple of shows together and always leave a project pining. We've wanted to play opposite each other for years! And now we have two projects lined up: Ring of Fire, and Finian's Rainbow in March at Benaroya Hall. When it rains it pours in this business!
About his life and start in Show biz: I grew up as a kind of country boy, out on the East side of the state, in the desert of the Tri-Cities. I originally joined theatre to work tech – lights, backstage, set building, stuff like that. The production of Fiddler on the Roof needed some more men, and I did double duty for the Tavern Scene, where I got to portray a stumbling Russian. The next year, we did Les Miserables, and I was dragged on stage by some friends and sang 'Twinkle-Twinkle Little Star,' – I was then cast as Javert. I went to The University of Evansville, Indiana for four years and hi-tailed it back to the west coast. The Midwest is lovely, but I missed my mountains. I moved out here in May of '09, and I've loved every second I've spent here.
Favorite roles: My first role, which I was lucky to land sight unseen, was in Brandon Ivie's Zanna, Don't! during Pride Fest in 2009. That group of amazing people that I worked with are still my closest friends, even 6 years later. And oddly enough, my first review here in town came from David Edward-Hughes from that show. Last season I was honored to join The Seattle Children's Theatre family. I performed 5 or 6 quirky roles in a show called Dick Whittington & His Cat, written by the INCREDIBLE Richard Gray, directed by the ABSURDLY AMAZING Allison Narver, and choreographed by the UTTERLY DELIGHTFUL Crystal Dawn Munkers. I have never had as much fun on stage. Ever. And I'd be hard-pressed to find another situation where a group of actors is given complete and utter free reign to tell such a magnificent story. In the second act I played an Island King, The Cabier, and it was just ten minutes of ridiculous voices, crazy high operatic singing, and flouncing about the stage in a gorgeous costume. And peacock feathers… So many peacock feathers.
The process of becoming a working artist in Seattle: The process of becoming a working artist in this town is different for everyone. I was lucky enough to be absorbed into an incredible community and I've managed to make a living by simply following my passion. I've also had the great fortune to be involved in the birth of sever companies here in town, and working in many capacities within those organizations. Currently I'm shifting gears just a bit and working on a few projects from a Producing standpoint. I'm working with one of Seattle's living legends, Paul Flanagan, on bringing several projects under the lights here in town. Stay tuned!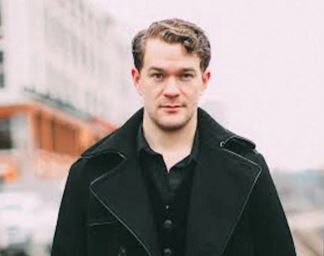 When did you know you were gay, when did you come out? Do you find you have fan boys? What is your relationship status? : It was actually at the 5th Avenue High School Musical Theatre Awards, during my sophomore year of high school. I was up in the balcony with one of my best friends watching another school, just having sound checked our number on the stage, when she turned to me and asked what I thought about the number ('I Think I'm Going to Like It Here' from Annie). The first thing I uttered, "Well, that butler, whoever he his, is really stinkin' cute." To which she screamed and gave me the biggest hug ever. It was, as it often is for most people, a rolling realization across the rest of my population of humans in my life.
No, I do not have fan boys, (laughs).
(Editor's Note: That's not entirely true. JMB has Fan MEN…)
And no, I'm not commenting on my relationship status. (Smiles).
The Actors Studio Questionnaire:
1. What is your favorite word? – Loft & Locomotion
2. What is your least favorite word? – NO
3. What turns you on creatively, spiritually or emotionally? – Truth, Intelligence.
4. What turns you off? – Willful Ignorance
5. What is your favorite curse word? – Shit
6. What sound or noise do you love? – The wind on top of a mountain.
7. What sound or noise do you hate? – The sound music stands make when they're slammed together.
8. What profession other than your own would you like to attempt? – Neuroanatomy.
9. What profession would you not like to do? – I would like to never work at McDonalds… again.
10. If Heaven exists, what would you like to hear God say when you arrive at the Pearly Gates? – (God looking down the list), "Brown. Browwwwn… Brown… Hm… Did you, by chance, have a reservation?"
Ring of Fire runs through Feb 14, 2016 at Centerstage, 3200 SW Dash Point Rd in Federal Way. Go to www.centerstagetheatre.com for ticketing and other information.
(Visited 2 times, 1 visits today)