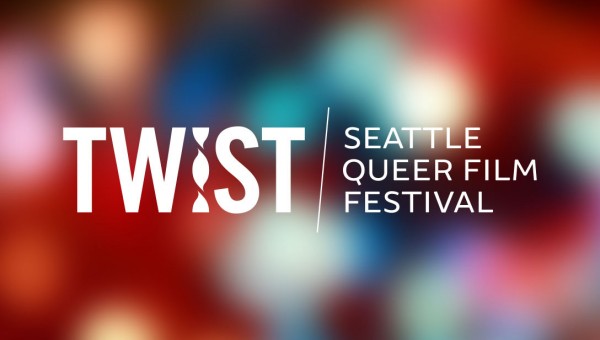 Hey, Everybody!
Let's do the Twist!
<cue Chubby Checker music>
Yep, Three Dollar Bill Cinema just announced their new name for their annual Seattle Lesbian & Gay Film Festival which celebrated their 20th anniversary this past October. From now on, "SLGFF" will be known as:
TWIST: Seattle Queer Film Festival.
Three Dollar Bill Cinema's Executive Director Jason Plourde announced their intention to change the name on the opening night of the 2015 festival:
"After 20 years of producing an amazing festival, we felt it was time to give the event a more special, inclusive, and engaging name." 
During the festival, Three Dollar Bill launched a survey and also held meetings with members of their staff, board members and supporters of Three Dollar Bill Cinema. Mr. Plourde noted, "We made sure to listen to many people and considered the extensive list of suggestions we received. It was important to make a well-informed, collaborative decision. We also enlisted our talented Design Director Corianton Hale to create a compelling visual identity that reflects the fun, inclusive nature of this festival."
The name they came up with, "Twist" begs a question…
So, why TWIST? The word has film connotations: a physical filmstrip winding through a projector, or the elements of story structure such as a plot twist or an intriguing revelation.

Moreover, "twist" evokes a festive, social, and celebratory spirit that is so often cited by Three Dollar Bill Cinema audiences and industry, who applaud the unique, appealing quality of the festival experience in Seattle.

Additionally, "twist" connects with "queer" by suggesting something unique and off-center, an unexpected surprise to be discovered and revealed, beyond the usual norms and conventions. It transcends the traditional LGBTQ nomenclature to create something new and different—a little more daring and a lot more fun—and sets a tone and direction that reflects our distinct community.
We also poked Mr. Plourde and asked the obvious question:
"Why not just call it "The Three Dollar Bill Film Festival"?
Jason responded:
"Well we wanted the name to be a little shorter (less of a mouthful) and a bit catchier. Also, we wanted to have a little separation from the organization's name and the name of our events.
Another point is that we already have a regular battle explaining to people that all our programs generally cost more than $3. We could envision a bit of a nightmare having people come to buy tickets for the festival constantly thinking they're just $3!"
You'll have an opportunity or two in the next few months to tell Three Dollar Bill what you think of the name change. Their next big event is their 11th annual Oscar Party, produced with their event partner, Gay City Health Project, which is set for Sunday, February 28, 2016 at Seattle's Cinerama and hosted by Robbie Turner. You can get tickets HERE for that glitzy, star-studded event.
OR, you can support Three Dollar Bill and Twist at their 9th annual dinner/auction which is themed and named, "Top Gun" for the 2016 edition. It's happening April 1, 2016 at MOHAI and you can grab more information over HERE including how you can donate goods and services to the auction part of the night, or just buy tickets or a table to the event.
Tags: Jason Plourde, Seattle Queer Film, Three Dollar Bill Cinema, TWIST: Seattle Queer Film Festival