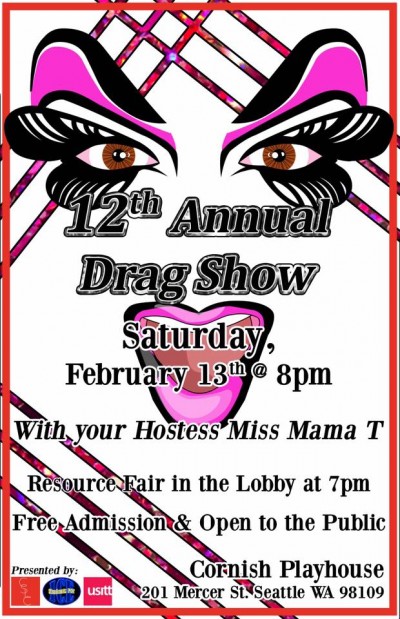 You have four BIG options for draggy fun tonight, Saturday February 13, 2016.
Option one is FREE!!! It's the 12th annual Cornish College of the Arts Drag Show happening at 8 pm tonight at Cornish Playhouse (the former Intiman Theater) at 201 Mercer Street at Seattle Center. It's hosted by Mama Tits (who's discreetly referred to by her family friendly moniker "Miss Mama T" on the poster to your left since the word 'tits' is so hideously offensive…much like the real thing, if you're a woman who has them and aren't allowed to display them despite the fact men are encouraged to show off their 'tits' but as usual, I digress…) This is primarily an "in-house" kind of event for Cornish but anyone can attend. And, you can see some amazing performances…a certain Miss Jinkx Monsoon dazzled this show a few years back. I wonder whatever became of her?
Option #2 isn't free…it's "The Imperial Sovereign Court of Seattle and the Olympic and Rainier Empire Along with Their Most Imperial Sovereign Majesties Rainier 41 The Surreal Victor Girthwood and Olympia 44 Shirley Today Bradshaw Presents Coronation 2016: The President's Ball An Evening in Black and White Deco at the Seattle Renaissance Hotel, 515 Madison St off of I-5.
Yes, that's a mouthful.
This event is actually happening as I type this…I don't really expect you to attend. Why would you? It's not 1988. And, it costs $50. And, frankly, the "Imperial Court System" is to gay people what "Amos & Andy" is to African-Americans.
Cue eye-rolling, followed by the following remark:
"Gurl…please…."
Our next draggy event is actually a fun one…it's the annual "Goth" edition of Sylvia O'Stayformore's monthly (yes, it's back to being monthly again after a year of being quarterly-ish…) BACON STRIP, the "Big Gay Variety Show".
More poo:
Our theme for this month is The Goth Show (Strange Love). For the February month of love we revisit our favorite theme of the year, goth! So bring out your torn lace, black eye liner, pale makeup and platform boots.
This show is dark with talent! The gurls and bois will be bringing their own special twist to the Strange Love songs to celebrate this season of love and death. We promise, some newbies, crazy live performances, and fun. So come on out and get your fill of the gurls and of bacon served fresh by our own salty meaty men.
It's a $15 show for the over 21 crowd and you'll have to brave the wilds of the International District to attend, though now you can take the new trolley from Capitol Hill to get there!  Tickets!
This month's line up includes:
Sylvia O' Stayformore
Honey Bucket
James and Kerry Darling
Vanity White
Monikkie Shame
Queen Dan'l
Strawberry Shartcake
DJ Tony Burns
Meaty-man Deo
Stage Stud C-Mac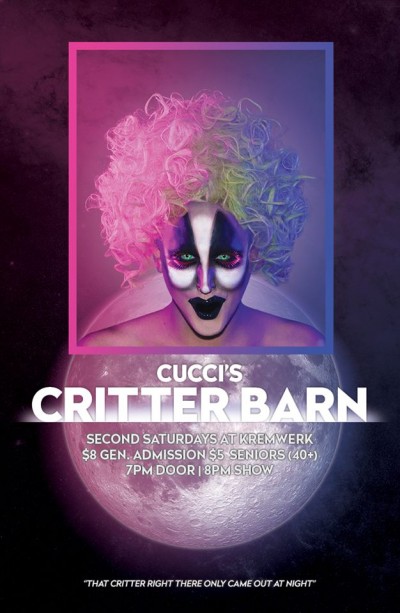 Your final drag filled choice is "Cucci's Critter Barn" the monthly cabaret hosted by Cucci Binaca and featuring many odd, up and coming young queens doing odd and up coming type of numbers…It's at Kremwerk, 1809 Minor in the heart of Seattle's Meat District. More poo:
General Admission: $8
Senior Discounts (40+): $5
Doors at 7pm.
Show starts 8pm!
This is a sit down show.
Yes, there will be chairs.
Yes, there will be drinks.
Yes, there will be games.
Yes, there will be jokes.
Yes, there will be creatures.
Yes, you will be tipping. (I'm not paying them much)

Hosted by: Cucci Binaca

Performances by:
Butylene O'Kipple
Harlotte O'Scara
Miss Americano
Khloe5X
Arson Nicki
Shelita Potroast
Hellen Tragedy
(Visited 1 times, 1 visits today)