March 2, 2016

•
by
Michael Strangeways
After months of speculation, Flying House Productions, the parent of the Seattle Men's Chorus and the Seattle Women's Chorus, has announced a replacement for beloved outgoing artistic director Dennis Coleman who is retiring from the arts organization after 35 years of service. Chicago resident PAUL CALDWELL has been tapped to take over from Coleman on August 1, 2016.
From the press release:
SEATTLE WA –Flying House Productions (FHP)

the parent organization for Seattle Men's Chorus and Seattle Women's Chorus, is thrilled to announce that

Paul Caldwell

will be named the new artistic director, effective

August 1, 2016

. 

The organization

has flourished under the 35-year artistic leadership of

Dennis Coleman,

whose retirement was announced in February 2015. Immediately the

FHP

board of directors began an extensive nationwide search for

Coleman's

successor; work is currently underway with the Board of Directors, executive director

Steven Smith

, and

Coleman

for a smooth transition process. In the coming months

Caldwell

is expected to relocate from his Chicago-area home where he has worked as artistic director for the Youth Choral Theatre of Chicago, Windy City Gay Chorus, and Windy City Treble Quire.

Coleman emphasizes, "Paul's national reputation as a talented conductor and composer makes him a great choice. I'm proud to pass on the baton to him and look forward to seeing how he builds on our mission to entertain and inspire." Most recently, Caldwell helped revitalize Chicago's Windy City Gay Chorus and Treble Quire while also doubling its membership. He has worked with youth choruses for 20 years, is in-demand nationally for his diverse expertise as a conductor of classical, world, and popular music, and is one of the U.S.'s most-performed choral music composers. His music has been broadcast on PBS, heard at Carnegie Hall and The Kennedy Center, as well as concert halls worldwide. Caldwell also performs as a drummer having studied with West African and Cuban masters. He has been recognized nationally for adventurous programming and his philanthropic contributions to the Arts.

Caldwell's diverse experiences working with young singers and LGBTQ choruses provide a cutting-edge perspective on musical programming and community outreach.  Together with FHP's executive director, Steven Smith, Caldwell will build on the FHP legacy for great entertainment and inspiration with a fresh commitment to use the power of music to create change and expand the definition of community. Caldwell has a dynamic personality and maintains a bold curiosity about today's music and issues that will work to expand audiences and engage more of the greater-Seattle community.

"I'm delighted to join Seattle Men's Chorus and Seattle Women's Chorus; they are dynamic musical legacies in one of American's greatest cities." Caldwell continues, "While I have long admired the choruses and their tradition of artistry, I'm inspired by the way Seattle Men's Chorus and Seattle Women's Chorus represent things that matter more than music like diversity, social justice, and creating safe spaces. I'm committed to contributing to a creative civic dialog in Seattle that will further these causes. We create moments that inspire people to change the world and I'm looking forward to a thrilling musical adventure."

 

About Paul Caldwell

Paul Caldwell has served as artistic director for Windy City Performing Arts in Chicago since 2013 where he provided renewed leadership and vision for both the Windy City Gay Chorus and Windy City Treble Quire. Since 2001 he has also served as artistic director for the Youth Choral Theater of Chicago, a community-based after-school program enrolling 200 young people in Chicago's northern suburbs. Paul's work with youth garnered national recognition, receiving the Chorus America/ASCAP Award for Adventurous Programming.

About the Seattle Men's Chorus/Seattle Women's Chorus
Founded in 1979, the internationally renowned Seattle Men's Chorus, along with Seattle Women's Chorus (founded in 2002), are the largest community choruses in America; and the largest gay choruses in the world. Flying House Productions, home of Seattle Men's Chorus and Seattle Women's Chorus, ranks third among the state's music organizations with over 400 members of SMC and over 300 members of SWC. Together, the Choruses produce five major concerts each season, attended by over 40,000 people, with a total of 20+ performances in greater Seattle, as well as a number of appearances in other communities statewide, including Spokane, Wenatchee, Tacoma, and Mount Vernon. FHP's annual operating budget is just over $3 million.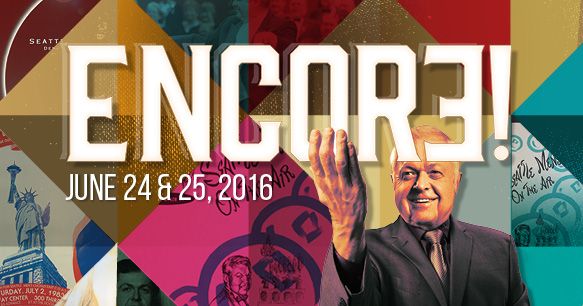 Next up for Flying House: the annual Children's Concert on April 2nd at McCaw Hall featuring both the Men's Chorus and the Women's Chorus with special guests, Diverse Harmony.
It's a free matinee event but reservations are recommended…
go HERE for more info/ticket reservations.
Then, that evening and the following afternoon, the Seattle Men's Chorus will present their spring concert, EVERYTHING BROADWAY, "The definitive guide to show tunes":
A stage full of 250 fabulous men, gaily performing show tunes? It's the concert we were born to sing! Let us be your colorful guide down the Great White Way for a show-stopping concert packed with songs from Broadway's biggest hits and hidden gems. From classics of the Golden Age to today's Tony award-winners, experience the dazzle, flair, and savoir faire that comes naturally to the boys of the Chorus. Celebrate Everything Broadway, our way.
Tickets HERE for that concert.
And, the big farewell concert for Dennis Coleman, will be the huge Pride month concert, ENCORE, on June 24 & 25, 2016 at McCaw Hall and featuring both choruses in their farewell tribute to Mr. Coleman.
Past, present, and future collide as we celebrate the end of an era – our final concert under the baton of our incomparable artistic director, Dennis Coleman. We look back with a poignant sampler of Dennis' favorite songs from the past 35 years. We sing of today with exciting new music. And we look ahead as we say 'bon voyage' to our dear friend and open the door to an exciting new future for our Choruses.
This will sell out…grab tickets HERE!
(Visited 7 times, 1 visits today)
As the Editorial Director/Co-Owner, Michael Strangeways writes, edits and does about a million other jobs for Seattle Gay Scene, Puget Sound's most visited LGBTQ news, arts and entertainment website now celebrating its 14th year as a media outlet. A semi-proud Midwesterner by birth, he's lived in Seattle since 2000. He's also a film producer who would like you to check out the Jinkx Monsoon documentary, "Drag Becomes Him" now available on Amazon.com. In his spare time, he gets slightly obsessive about his love for old movies, challenging theater, "otters", vodka, chocolate, "I,Claudius", Lizzie Borden, real books made out of paper, disaster films, show tunes, Weimar era Germany, flea markets, pop surrealistic art, the sex lives of Hollywood actors both living and dead, kitties, chicken fried steak, haute couture and David Bowie. But, not necessarily in that order.
Related Posts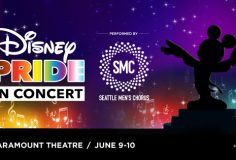 *Seattle Musicland • *Seattle Theaterland • Arts & Entertainment • Choral • Comedy • Concerts • Music • Seattle Pride 2023 • Stand Up
Seattle Theatre Group's announcements of new concerts, shows and comedy
...