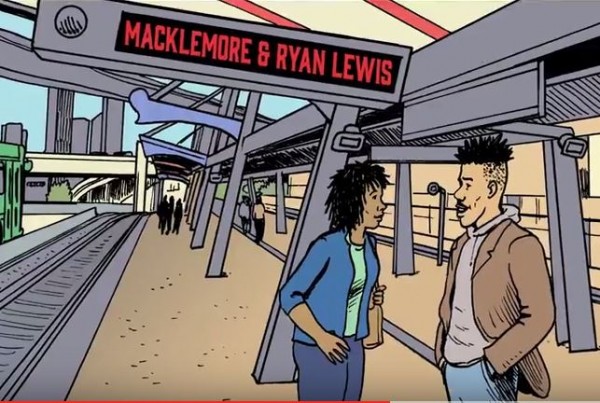 Bumbershoot, the beloved/much bitched about annual Labor Day music/arts festival which has been part of the Seattle Scene since Denny met Boren, announced their 2016 line-up on Monday night at The Showbox with Mama Tits on hand to act as a host.
The two big headliners for Bumbershoot 46 are local folks: Macklemore/Ryan Lewis and Death Cab For Cutie. KYGO, Tame Impala, G-EAZY, Pretty Lights, Halsey and Father John Misty are others heading the bill for the 3 day festival, once again happening at Seattle Center, September 2, 3, & 4.  That's a Fri/Sat/Sun schedule. The new and improved Bumbershoot (which almost went under a couple years ago) has dumped the traditional Labor Day Monday day of events…which tended to be lightly attended. Passes for this year's festival go on sale this Friday, April 29th at 10 am.
Bumbershoot brags that about 40% of their programming supports local artists. Obviously, Mr Macklemore, Mr. Lewis and the "Cuties" are local kids done good…but, also on this year's list, the terrific FLY MOON ROYALTY who just had an album release party at Chop Suey. And, many of the comedians, spoken word and theater performances at Bumbershoot are from local performers/group. And, several local arts groups will have a presence once again at the party: SIFF, Teatro ZinZanni, Flatstock, and Puget Theatre Sound will all be represented.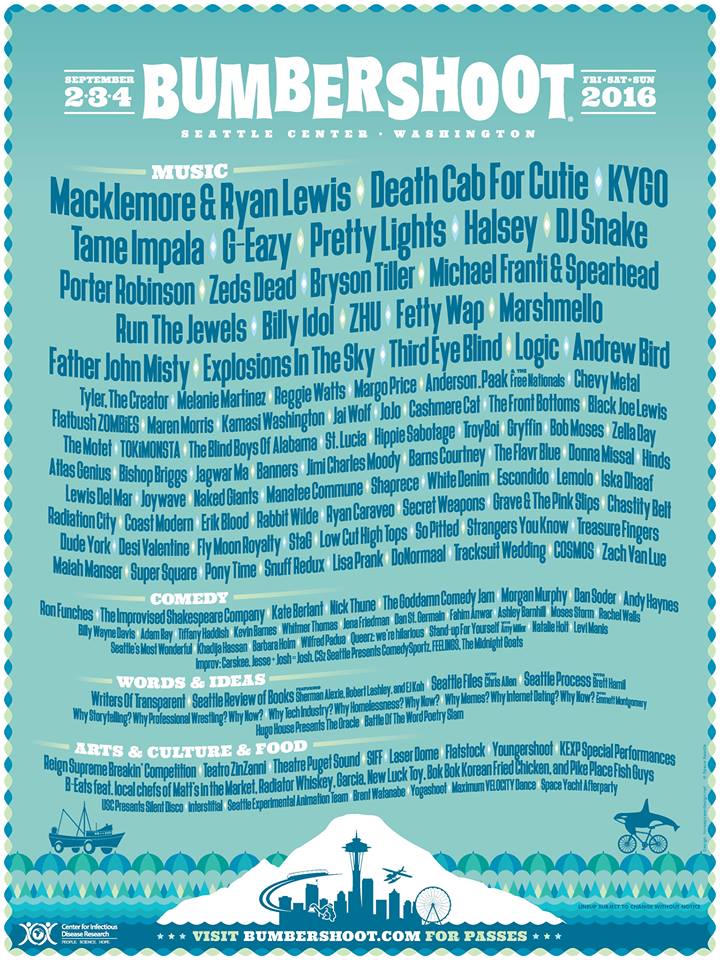 There's some local queer content infiltrating the festival, too, this year. Those funny queer comics who perform under the moniker, "Queerz: We're Hilarious" are scheduled to perform. You might have caught them in the last year doing shows at The Pocket or at Gay City. Their troupe includes Finn Cottom, Katie Roberts, Elicia Sanchez and sometime SGS contributor/poster child, the dreamy Nick Sahoyah.
AND, Bumbershoot 2016 will utilize both Memorial Stadium AND Key Arena. We're guessing Key will be used for the two biggies, Macklemore/Lewis and Death Cab for Cutie. You KNOW those shows will be huge.
More info and schedules to be released soon.
Here's their cute trailer:
Tags: Bumbershoot, Bumbershoot 2016, Death Cab for Cutie, Macklemore & Ryan Lewis