Just in time for Seattle Pride 2016 comes a reminder of Seattle Pride 2014…y'all remember the Seattle Pride parade from June of 2014, right? That was the one where dumbass anti-lgbtq protesters stormed the Pride Parade at Westlake Park right before the parade was to start and the one where our own MAMA TITS stood up to them, confronted them, and made them flee….all in front of video cameras which led to a viral video seen around the world.
Now, that awesome moment is being recreated and expanded upon with an exciting new project that teams up Mama Tits herself, with the team at local queer comics publishers, Northwest Press. Earlier this year, Zan Christensen, the head honcho at NW Press, and comic artist Terry Blas approached the "skyscraper" diva about being part of an idea they had…turn Mama Tits into a comic book hero(ine) who fights bigotry and homophobia with the help of some friends and allies.
The result is MAMA TITS SAVES THE WORLD and the finished product is amazing and (almost) ready to take on the world and debut at RuPaul's Drag Con event in Los Angeles on May 7th and 8th at the Los Angeles Convention Center. Artist Terry Blas and Mama Tits will in attendance and appear on a panel, "Geeks and Glamazons: Gender Blending in Comics".
But, the Northwest Press isn't a big corporate comic publisher. To do this project right, they could use a little help…so they've created an IndieGoGo campaign to help raise some money. By helping out NOW, you're basically just pre-buying your copy of the comic (which is available as a printed copy as well as in digital format!)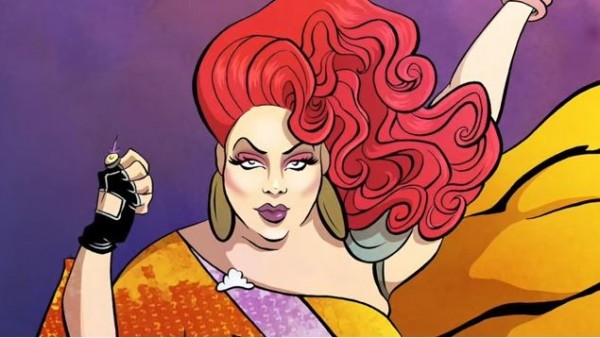 Here's more poo on the project. And, we'll update you about when the comic book will be available for the public to buy after official publication…we're GUESSING they'll probably be some kind of local event in the near future.
Drag queen Mama Tits made her stamp on the Internet with a viral video at Seattle Pride, where she took a stand against antigay protestors in her blue rainbow outfit, challenging them on their hypocrisy and hateful rhetoric.

Now, Mama comes to the comics pages, courtesy of writer Charles "Zan" Christensen and artist Terry Blas, where she takes her fight to a new level, combatting bigoted supervillains!

MAMA TITS SAVES THE WORLD!

Granted a fraction of the powers of a pantheon of queer gods and goddesses, Mama assumes a superheroic mantle and uses her powers to protect the community from the evil forces that would deny them their rights to life, liberty, and the pursuit of happiness.

Whether she's battling the evil Polyestra, The Piccolo, or the undead Reverend Plummetgood, Mama will need all her strength to keep the world safe for queer people.

The book features a script by Northwest Press founder Charles "Zan" Christensen, art by Terry Blas, colors by Marissa Louise, and bonus artwork bySonya Samantha Saturday, Diego Gómez, and Justin Hall.

We are seeking $10,000 to fund the book, which will cover:

$4,000 to pay the artists (MOST important!)
$3,000 to print books and posters
$1,250 to send Mama to RuPaul's DragCon in May for the debut of the book!
$750 for postage to send out rewards
$1000 for crowdfunding fees

When we're done, we'll have a great book to spread Mama's message of love, acceptance, and fierceness that she can share with her fans at her shows, and Northwest Press can distribute all over the world!
Here's their pitch video featuring Mama Tits:
(Visited 2 times, 1 visits today)