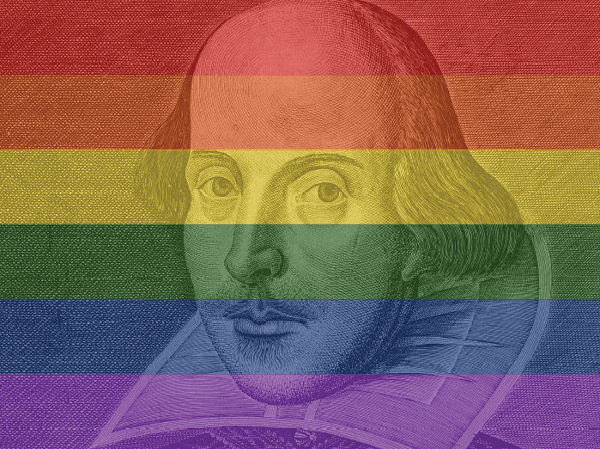 It's kind of a big deal. One of the 233 known copies (of an estimated 750 printed) of the First Folio is currently visiting Seattle Public Library's main Central Library downtown, through April 17, 2016. For those of you not in the know, the First Folio was the first public printing of 18 of Shakespeare's plays (in 1623) seven years after his death. Many literary works from that era are lost but the First Folio ensured that Shakespeare's works would live on, including some of the "biggies": Macbeth, Antony and Cleopatra, The Tempest, and Twelfth Night might have been lost to the ages if the First Folio had never happened.
Now, you can experience one of the rare copies of the First Folio, while it is on display at Seattle Public Library. And, they've programmed a huge number of events in association with this exhibit, many of them happening in other venues all over the city….check out the full list of events HERE but the main one we're interested in, is the fun ShakesQueer party happening this Saturday, April 16th from 6:30 pm to 8 pm at the downtown Central Library's The Norcliffe Foundation Living Room on Level 3.
Join us for a wild, madcap evening to showcase the queer side of Shakespeare and his work! Featuring some of the city's best drag artists, lustrous fashions, campy solilo-queens and zany performances that is tailor made for those looking for a new take on Shakespeare's classic tales.
The party will include The Lady B, Abbey Roads, Betty Wetter, Arson Nicki, Marquis Facade, DJ Miss Cookie Couture, Ceasar Hart, Cucci Binaca and Mama Tits as your hostess.
This is a FREE event and All Ages so a rare opportunity for the under 21 set to see these performers, most of whom only perform at over 21 venues!
And, please note that attending this event does not get you into the First Folio exhibit. That requires a FREE reservation ticket which reserves you a time to view the exhibit. Sadly, they're sold out for the EVERY viewing now except for a few spots available on THURSDAY, APRIL 14TH AND FRIDAY, APRIL 15TH (as of this published post at aprox. 3pm on Wednesday, the 13th). If you want to SEE the Folio, go snatch a slot NOW!!!
Here's more info on the exhibit:
The First Folio was assembled and printed by two members of Shakespeare's acting company who sought a higher level of authenticity that they felt was missing from earlier printed versions of Shakespeare's plays. As far as we know, Shakespeare himself never requested that any of his plays be published. Without modern copyright, the plays belonged to the acting company for which he wrote.

Scholars estimate that up to 750 copies of the First Folio were printed in 1623. Today, we know the whereabouts of 233, an amazing survival rate when compared to other 17th century publications. Each of the surviving copies tells its own story through its history, marginal notes and printing variants. A total of 82 First Folios represent the heart of the Folger Shakespeare Library collection. A full facsimile of one of the Folger's First Folios (no. 68) can be viewed in their digital image collection.

In 2016 (the 400th anniversary of Shakespeare's death), in partnership with Cincinnati Museum Center and the American Library Association, the Folger Library will bring the First Folio to all 50 states, Washington, DC, and Puerto Rico. First Folio! The Book that Gave Us Shakespeare includes panels and digital content, and features a First Folio from the Folger, whose collection of 82 First Folios is by far the largest in the world.

Visitors to First Folio! will come face to face with the original 1623 book, displayed open to Hamlet's speech in which he debates whether "to be or not to be." EachFirst Folio! host location has also planned public events and activities, often including additional exhibitions, in joyful celebration of the book that saved so many of Shakespeare's dramas and the amazing plays it holds.

The Seattle Public Library was chosen as the site for the Washington State First Folio! tour stop. The book will be on display in the level 8 gallery at the Central Library in downtown Seattle from March 21 to April 17, 2016 during regular Library hours.  Enjoy Shakespeare-themed activities and performances on level 3 before heading upstairs to view the folio.

Click here to see a full list of events:
http://www.spl.org/library-collection/first-folio/calendar

Click here to learn more about the exhibit:
www.spl.org/shakespeare

Reserve free tickets to view First Folio here:
http://www.spl.org/library-collection/first-folio/visit-the-first-folio
(Visited 2 times, 1 visits today)