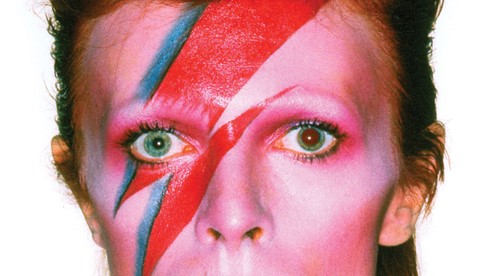 Frankly, we're shocked this hasn't sold out yet.
Seattle Theatre Group and Seattle International Film Festival have teamed up for a BIG tribute glam rock party honoring David Bowie, the immortal rock god who passed on to a higher plane in January. It's "Oh You Pretty Things: Glam Rock Party" and it's happening THIS Friday, May 27, 2016 at The Neptune Theatre and features sing-a-long Bowie videos and performances by Bowie inspired burlesque stars. The headliners are the tribute band BowieVision who will perform their live versions of beloved hits by Ziggy Stardust, Aladdin Sane and all the other little goblin kings who lived in Maestro Bowie's fevered brain.
It's all followed by a dance party until 1 am where you can simultaneously celebrate and mourn his loss.
We're guessing, lots and lots of people will go to this in their finest glitter rock attire. If you don't already own glitter wedgies, we suggest you run out and grab some.
ALL the info and snag those tickets NOW before it does sell out.
Oh, You Pretty Things! A David Bowie and Glam Rock dance party

May 27 | Party: The Neptune Theatre

240 minutes
SIFF and STG present a celebration of rock icon (and movie star!) David Bowie and his legendary creation Ziggy Stardust. For this special evening, we transport the Neptune Theatre back to the glory days of the glam rock era: complete with sing along music videos, Bowie-inspired burlesque, a performance by tribute band BowieVision, and non-stop dancing to the best music of the gender-bending, hard-rocking '70s.

9:00PM | Doors Open
9:00–9:30PM | DJ Pretty Baby spins glam classics
9:30–10:30PM | Bowie Music Video Sing Along and Bowie-inspired Burlesque
10:30PM–11:30PM | Live performance by BowieVision
11:30–1:00AM | Glam Dance Mania with DJ Pretty Baby

---

BowieVision
Paying tribute to David Bowie? For BowieVision, it's not a one-time proposition, it's a way of life. Combining world-class vocals, deft musicianship, masterful stage presence, and stunning video projections, the BowieVision experience is simultaneously epic and intimate, an approach that resonates with audiences on a more profound level than mere impersonation ever could. BowieVision consistently draws sell-out crowds to premiere venues like Seattle's Showbox, Crocodile, Triple Door, Tractor Tavern, and Nectar Lounge, as well as Doug Fir, Crystal Ballroom, and Star Theatre in Portland.

---

Burlesque Performances by:

The Infamous Nina Nightshade
The Infamous Nina Nightshade will excite you with her costumes, entrance you with her dancers grace and show you why she has been called "Oregon's First Lady of Burlesque". This bittersweet beauty is just the right mix of elegance with a hint of humor. In addition to being a solo performer she is also producer, costumer and instructor.

Maggie McMuffin
Drawing inspiration from past and present pop culture, Maggie McMuffin–a trained actor who spent years of combining nudity with other theatrical genres such as rock musicals and cabarets–combines comedic flair with the gritty dance moves of 1970's strip clubs. Known as The Pelvis of Justice, she's here to hip-thrust her way into your heart.

Nikki Lev
Founder, Owner, and Glitter Beast of Karaoke Burlesque PDX, Nikki Lev works hard for her art as a burlesque performer and producer, GoGo dancer, Drag Queen, Strip Club MC, Karaoke Host, Sex Positive Queer Activist and general supporter and booster of the exotic arts in all of their varieties.
(Visited 1 times, 1 visits today)