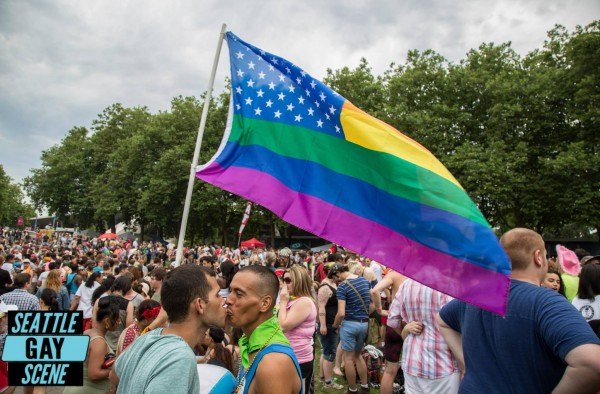 Social media in Western Washington has been abuzz the last 24 hours, circulating posts from Seattle Pride, Tacoma Rainbow Center and Oasis Youth Center that claimed Tacoma Police had contacted them asking the LGBTQA communities in both Tacoma and Seattle to use extreme caution at this time when out in public.
Seattle Gay Scene spoke with Officer Loretta Cool, Spokesperson for the Tacoma Police Department this morning and learned that Tacoma Police have not issued any warnings regarding the LGBTQA communities.  We were told that any notifications of this type would come directly from Tacoma Police, and not through a third party.  Cool reminded us that we should expect an increased police presence during this year's Pride festivities, and any other large gatherings, and most of all, we all must be aware of our surroundings – if you see something suspicious, report it immediately to police.
Officer Cool provided SGS with the following details from the FBI:
The FBI is actively assessing intelligence and at this time has no information indicating specific and credible threats to any segment of our community. The FBI has reviewed several reports of threatening comments and worked with law enforcement partners to evaluate them. The FBI asks the public to continue to report any and all suspicious activity to law enforcement, but currently there is no indication of an elevated risk to Washington residents at this time.

The FBI continually assesses the full spectrum of potential threats that come to our attention and works with law enforcement partners to address them, if needed. Our intelligence and investigative resources are actively engaged throughout the entire year. After a major incident elsewhere in the nation or before a major event in Seattle, the FBI continues this routine, already active posture. Similarly, the FBI is always ready to augment local and state resources if a situation develops that requires additional intelligence analysis, manpower, or specialized capabilities.

In the last four days, the FBI has evaluated and coordinated with partners on three reported threats, and not found reason to suggest a pending physical threat:

The FBI is working with the Redmond Police Department to investigate telephonic remarks regarding a threat to the Muslim Association of Puget Sound in Redmond.
The FBI is working with the Seattle Police Department to investigate remarks by a North Seattle man who made online remarks threatening a North Seattle mosque. SPD arrested the individual shortly before 3:30 pm on Tuesday, June 14.
On Tuesday evening, June 14, the FBI interviewed a Spokane resident who posted threatening language online regarding LGBT-focused bars in Seattle and Tacoma.

(Given the ongoing nature of these investigations, there is no further information that can be provided at this time.)

In addition to working with our local, state and, federal law enforcement partners, the FBI is actively communicating with leaders in LGBTQ and Muslim communities organizations. The FBI values partnerships with all Washington communities and will continue to engage them in discussions about their safety concerns.

"As always, the FBI Seattle Division will work with our law enforcement partners to gather, share and act upon threat information as it comes to our attention," said the FBI Seattle Division's Special Agent in Charge Frank Montoya, Jr.
Seattle Gay Scene received the erroneous information as an urgent press release from Seattle Pride, producers of the city's annual Pride parade, at 11:30pm last night asking us to quickly publish this information through our channels. The language in the press release was more urgent than what we had seen on social media with it being implied there was a "credible threat" against the community.  We immediately replied to the Seattle Pride email, asking Communications Director Alex Nugent for a source, and were told, "TPD contacted David Hale (Seattle Pride Vice President)…waiting to hear back from him the specific individual he spoke with. Thanks for the quick response, I'll update as soon as I have the info."
At this time, we haven't heard back from Seattle Pride.
At this moment, it's imperative that leaders at these and other organizations carefully review and verify information before it's released to the public.  Creating a false sense of fear in our community is wrong, and while the intentions may have been good, the lasting effects are damaging to the community.
We'll keep you posted.
(Visited 6 times, 1 visits today)