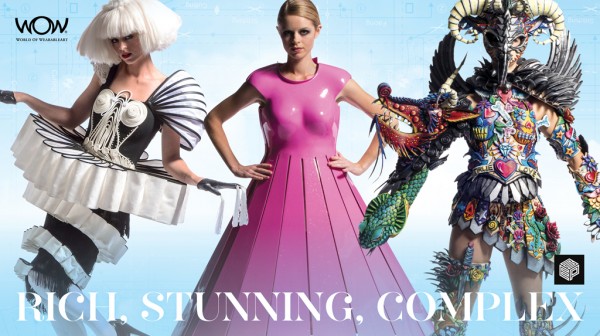 There's a huge party tonight, Friday, July 1, 2016 at EMP for their amazing new art/fashion exhibit from New Zealand, World of WearableArt™ which opens to the general public on Saturday, July 2nd. Grab tickets NOW or at the door to attend this fun kick-off "where fashion and art collide…"
MORE on the exhibit:
The World of WearableArt™ is New Zealand's largest arts show. Each year, it creates a new theatrical world in which incredible garments are brought to life. Over 50,000 show-goers attend annually from around the world to witness this stunning spectacular of dance, theatre, music, and art.

The garments on stage are the award-contending designs selected from worldwide entries in the annual World of WearableArt™ Awards competition, which poses the simple, but challenging brief to designers: to take "art off the wall and adorn [it] onto the human form."

World of WearableArt™ gives designers the opportunity to be innovative and original, inspiring a wide range of fashion designers, costume-makers, and other artisans from all occupations to enter. The rules of the competition encourage anything that is in any way wearable as long as it is beautifully designed and well-made, resulting in garments that are constructed from an extraordinary array of materials. The only limit is their imagination.

Best described as a glorious rebellion against the mundane, World of WearableArt™ is a choreographed collision where fantasy meets reality and saturates the senses. Now, we invite you to experience this incredible show through the World of WearableArt™ exhibition, making its North American premiere at EMP with 32 award-winning garments showcasing the very best of the permanent collection.
MORE on the opening party:
Be the first to experience the magic of EMP's newest exhibit, World of WearableArt™, and explore how the borders between creative disciplines fade away as designers play with their imagination and innovative ways of constructing new objects.

• Watch spectacular performances by aerialists, stilt walkers, and live musicians.
• Enjoy blissfully curated beats from DJ Explorateur, and magical melodies on the electric cello by Gretchen Yanover.
• View amazing wearable art garments up close on live models, or capture your own creative style on the Seattle Met red carpet and photo booth.
• World of WearableArt™ Founder Dame Suzie Moncrieff, as well as designers from the exhibit, will be in attendance to shed light on this spectacular art show through spotlight talks.
• Weave your way through local artist Mandy Greer's durational performance and interactive fiber-based installation, "The Metamorph"
• Get adorned with an arty updo by VAIN professional stylists
• Plus, glo-fashion giveaways, interactive demos with MakeFashion, and vibrant signature cocktails!

Although there is no dress code, attendees are encouraged to come adorned in festive attire—from your favorite shoes and accessories to an entire ensemble that makes a bold statement on your personal style.
(Visited 1 times, 1 visits today)