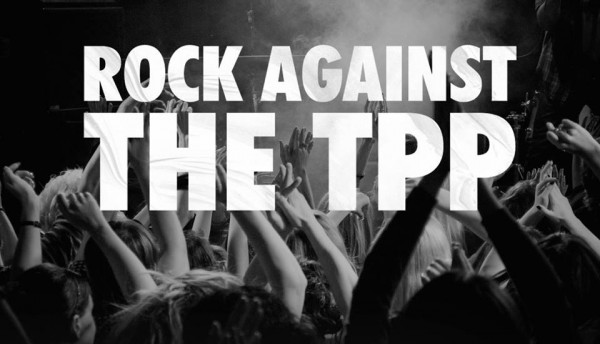 Not a fan of the Trans Pacific Partnership deal currently pending before the US government? If you're like many folks, you're not "down with the TPP" so you might want to gather this evening at the Showbox Sodo in Seattle for a big mobilization event/concert that features headliners Talib Kweli, Anti-Flag, actress Evangeline Lilly, comedian Hari Kondabolu and others raising awareness about the TPP.
It's a free event; register over HERE to print up a ticket but it doesn't guarantee admittance so if you REALLY want to attend, you'd best get there early. The "teach-in" hosted by Evangeline Lilly starts at 5 pm so if you wanna hang with the lovely star of "Lost" and those awful Hobbit films, you'd best boogie on down to Sodo long before 5 pm.
Note: this is part of a "Rock Against the TPP" tour which will move on to Portland on Saturday August 20, and other points after that.
The TPP is a controversial thing with many not liking it for its secrecy and for the fact it largely benefits large multi-national corporations and Wall Street, but not so much the common person on the street. Others worry about potential issues with threats to internet freedom. Obama is FOR it…Hillary was wishy washy about it and now she's against it, like Bernie Sanders. Trump, of all people, has come out against it and he was quoted saying THIS about it:  "The TPP is horrible deal. It is a deal that is going to lead to nothing but trouble…"
Here's more poo on the event:
Talib Kweli, punk band Anti-Flag (acoustic), Golden Globe nominated actress Evangeline Lilly, Hari Kondabolu, Downtown Boys, Makana, Danbert from Chumbawamba, Naima Penniman, Evan Greer, Taina Asili, and others will appear at a FREE concert in Seattle on August 19th to mobilize opposition to the Trans-Pacific Partnership (TPP) agreement, a secretive trade deal that threatens our most basic rights. Learn more and RSVP: https://www.rockagainstthetpp.org/seattle-wa/

Friday, August 19th, 2016
@ Showbox SoDo
1700 1st Ave S
Teach-in at 5pm hosted by Evangeline Lilly
Concert 6pm – midnight.
Free! RSVP required.
All ages. Wheelchair accessible.

Presented by Fight for the Future and Firebrand Records.

Sponsored by Washington Fair Trade Coalition, CWA, CREDO, Sierra Club, Demand Progress, Public Citizen, Citizens Trade Campaign, International Labor Rights Forum, Teamsters, Top Secret Plans, Friends of the Earth, SumOfUs

Full line-up:

*Talib Kweli*
Internationally acclaimed hip hop emcee known as one of the world's most accomplished lyricists, has collaborated with Kanye West, Pharell Williams, J Dilla, and more.

*Evangeline Lilly*
Golden Globe nominated Actress, known for her roles in Lost, The Hobbit, Hurt Locker, and Ant-Man

*Hari Kondabolu*
"One of the most exciting political comics in stand-up today."—New York Times

*Makana*
Slack Rock guitarist renowned for punking world leaders and corporate media. Penned "Occupy" anthem (Rolling Stone). Hawaiian cultural ambassador.

*Downtown Boys*
Bilingual dance party dubbed 'America's Most Exciting Punk Band' by Rolling Stone.

*Taina Asili*
A Puerto Rican singer, fusing past and present struggles into one soulful and defiant voice.

*Sihasin*
Brother and sister duo known as the drummer and bassist of legendary indigenous Navajo Nation punk band Blackfire.

*Bell's Roar*
NY-based Firebrand Records multi-instrumentalist and producer blending synth-pop, rock, and soul.

*Evan Greer*
Campaign director of Fight for the Future and internationally touring queer riot-folk singer/songwriter.

*Ryan Harvey*
Radical singer/songwriter from Baltimore and co-founder of Firebrand Records

*Son of Nun*
Activist, organizer, and hip hop MC who doesn't just entertain, he empowers. "More than relevant" according to Chuck D of Public Enemy.

WHAT'S GOING ON?
Congress is about to decide the fate of the Trans-Pacific Partnership (TPP), an anti-democratic deal between 12 countries that was negotiated in complete secrecy by government officials and hundreds of corporate lobbyists. If it becomes law, the TPP would be the largest deal of its kind in history, and it poses a grave threat to good-paying jobs, internet freedom, the environment, access to medicine, food safety, and the future of freedom of expression.

WHAT CAN WE DO ABOUT IT?
The TPP text has already been finalized, but before it becomes law, U.S. Congress must approve it. With all the extreme secrecy and blatant corruption surrounding this deal, it's not hard to see why voters from across the political spectrum overwhelmingly oppose it. Even all the leading presidential candidates are against it! But pro-TPP members of Congress are still plotting to rush the TPP to a vote this Fall. They want to do it quietly. That's why we need to get loud.

WHAT IS ROCK AGAINST THE TPP?
Rock Against the TPP is a massive effort to sound the alarm about the toxic backroom deal that is the Trans-Pacific Partnership. Through a series of large-scale educational concert events, protests, teach-ins, and trainings, we'll reach thousands of people who haven't heard about the TPP yet, and ignite a movement to stop it in its tracks. The tour is a partnership between viral internet freedom nonprofit Fight for the Future and Firebrand Records, the new freedom fighting record label co-founded by Ryan Harvey and Tom Morello.
(Visited 1 times, 1 visits today)